Maksym Skrypchenko, President of the Transatlantic Dialogue Center, and Stepan Rusyn, Coordinator of TDC's German-Ukrainian Partnership Program, were visiting Berlin on 24-28 October to meet with local analysts, journalists and officials on the sidelines of the International Expert Conference on the Recovery of Ukraine.
On 24 October, they held meetings with the representatives of the Munich Security Conference and Berlin Security Conference, discussing recent developments in Ukraine and defining areas of potential cooperation.
One of the goals of the visit was to deepen ties with the German youth organizations. To that end, the TDC representatives met the leadership of Young Liberals (JuLis) and the international officer of the Working Group of Young Socialists in the SPD (Jusos).
Possible points of convergence have also been discussed with the Heinrich Böll Foundation and Friedrich Naumann Foundation for Freedom.
In the following days, the TDC representatives exchanged views on the Ukrainian-German relations, delivery of Western weapons and Ukraine's path to the EU and NATO with the experts of the German Council on Foreign Relations and European Council on Foreign Relations.
The advocacy visit included several meetings at the Bundestag, where the TDC briefed members of the parliament and their staff on the current situation in Ukraine and the most pressing military and humanitarian needs.
On 28 October, the TDC met Minister of Justice Marco Buschmann and had a brief discussion on Ukraine's proposal to establish the Special Tribunal for the Crime of Aggression against Ukraine.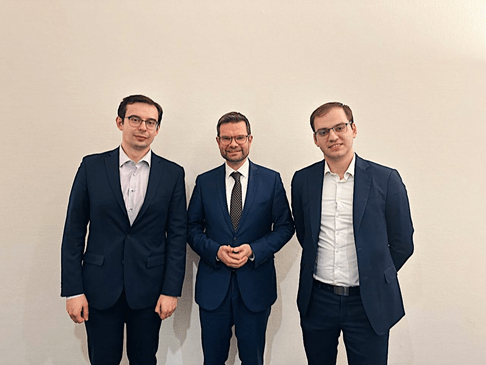 The last point in the visit's program was the participation in the online stream of Young Liberals, where the TDC representatives spoke on digitalization, impact of the recent Russian attacks on Ukraine's energy infrastructure and the ways German youth can help Ukraine.