by Anna Kostenko
Key Takeaways
Strategic Military Cooperation: Both Taiwan and Ukraine face military threats from larger, authoritarian nations. There is a scope for sharing military tactics, intelligence, and possibly equipment to strengthen their defensive capabilities.
Digital Transformation: Taiwan is a leader in technology, while Ukraine has an emerging digital infrastructure. A tech partnership could bolster cybersecurity and digital governance in both countries.
Economic Partnerships: Both nations have unique economic strengths — Taiwan in technology and Ukraine in agriculture. The article suggests that combining these strengths could yield mutually beneficial trade agreements and investment opportunities.
Future of Democracy: At its core, the alliance could serve as a beacon for other democracies facing external threats. By working together, Taiwan and Ukraine could set an example of resilience and innovative partnerships that help protect and promote democratic values globally.
The full-scale invasion of Russia against Ukraine in 2022 has drawn the attention of the whole world and raised concerns about stability in the Asia-Pacific region. Such a fast and unexpected turn of events in the middle of Europe when an authoritarian power is trying to take control over a smaller nation with democratic values turned the heads of the world leaders towards Taiwan. The international community is asking itself how long it will take Beijing to make the same decision as the Kremlin made at the beginning of 2022.
Confrontation between China and Taiwan has been going on for decades and has been one of the defining factors of power relations in the Asia-Pacific region. Although the sides have not yet resorted to the direct use of force against each other, the PRC is getting increasingly assertive and clear in its unwillingness to wait too long to reunite with Taiwan. Taking such trends into consideration, the leaders of the democratic world need to update their strategic approaches towards the China-Taiwan issue.
Ukraine is currently presented with the same challenge. Its relations with Taiwan have long been very limited, but the events of 2022 have shown the potential for bilateral cooperation. The Taiwanese nation relates to the problems Ukrainians are facing in their fight against a powerful neighbor and has expressed its support. At the same time, mainland China took a laid-back approach towards the events in Ukraine, preferring to remain neutral. Such a stance of the PRC and the implications that they would much rather side with Moscow than Kyiv has lowered the level of trust towards Beijing among Ukrainians who are starting to see China more as a threat than an ally. According to the survey conducted by the Transatlantic Dialogue Center and Sociological Group Rating in June 2023, more than 30% of Ukrainians consider China a hostile or rather hostile country, while in 2021 this number did not exceed 10%. So, it's high time for Kyiv to look into its existing ties with both China and Taiwan and consider working on a more engaging interaction with Taipei. That's why in this paper we'll discuss the prospects of developing closer Ukraine-Taiwan ties and other countries' experience in cooperating with Taipei.
Taiwan As a Military and Economic Power
The Republic of China (ROC) or simply Taiwan has been playing an important role in the geopolitics as well as in the development of the world economy for several decades now.
Located in the so-called first island chain in the Pacific, Taiwan serves the strategic purpose of containing China. If the PRC were to gain control over the island their naval power would rise immensely allowing them to challenge the U.S. in the Pacific and gain more control over the South China Sea. This would lead not only to the military expansion of Beijing but also would allow China to take control over the key naval trade routes of East Asia.
Moreover, the ROC is one of the Asian tigers, an economic power, and an important trade partner. The Taiwanese are most famous for their advanced tech industry – the production of computers, software, artificial intelligence, etc. Taiwan is also a leader in the production of microchips, which are an integral part of modern technology. The Taiwan Semiconductor Manufacturing Company (TSMC) controls more than half of the world's market, so the leading economies of the world are dependent on semiconductors produced in Taiwan. Beijing's control over the island and its industry would increase the PRC's economic power, which is already huge.
Relations Between Ukraine and Taiwan: Taipei Is Taking Initiative
There are no official ties between Ukraine and the ROC, as Ukraine recognizes Taiwan as part of China's territory. There is also no Taipei Representative office in Ukraine, and the bilateral interaction overall has been very limited. Since gaining independence, Kyiv focused on cooperation with the PRC, hoping to reap more economic benefits from it.
However, Russia's war against Ukraine has allowed the Ukrainian nation to look at relations with Taiwan from a completely different perspective. While China has remained neutral, sometimes even leaning towards aligning with Russia, the Taiwanese have been expressing their support for Ukraine in many ways from the start of the hostilities. People of Taiwan have filled the streets of their cities with blue and yellow and held peaceful demonstrations condemning Russian actions. Moreover, the ROC has been sending humanitarian help, medical aid, and financial assistance to Ukrainians. Being one of the very few East Asian countries to provide aid to Ukraine, Taiwan has spent more than 110 million U.S. dollars on Ukrainian needs in humanitarian aid, refugee support, generators, reconstruction projects, etc.
Due to the lack of connections with Kyiv directly, Taiwan has been aiding Ukraine through other friendly countries by supporting their governments' and NGOs' efforts to help Ukrainians. For example, Taipei has recently donated 4 million U.S. dollars towards welfare projects led by Polish NGOs. Taipei has also expressed interest in investing in the reconstruction of Ukrainian cities – they have already donated 5 million U.S. dollars towards Lithuanian reconstruction projects in Borodianka and Irpin and the same amount towards the Slovak reconstruction project in Chernihiv. They have also joined the European Bank for Reconstruction and Development initiative meant to provide private businesses in Ukraine with insurance against war-related risks. Furthermore, Taipei has joined other democratic nations in imposing sanctions against Russia and their ally Belarus by limiting their exports to these countries – the most impactful of which was the ban on exporting semiconductors to Russia. All these actions clearly show Taiwan's interest in promoting bilateral relations and strengthening ties.
Now it's up to Kyiv to decide whether it is willing to take cooperation to a new level.
Prospects of the Bilateral Relations: Military, Technology and Reconstruction
The full-scale Russian invasion of Ukraine has brought a lot of violence and terror, but it has also opened new opportunities for Ukraine in terms of international cooperation. In this context, it is worth considering the possibility of improving relations between Taipei and Kyiv.
Taiwan has already expressed the will to invest in Ukraine, and Kyiv could make good use of it. The Taiwanese are able to help Ukraine not only with a reconstruction of infrastructure but also with technical digitalization. The Ukrainian Ministry of Digital Transformation is working on numerous new projects aimed at integrating technical innovations into the everyday lives of Ukrainians. And there is hardly a better country than Taiwan to support Ukraine on this path.
Furthermore, Taiwan is currently closely monitoring the military developments in Ukraine, paying special attention to the tactics of the Ukrainians, the effectiveness of various types of weapons, and the peculiarities of their use in combat. Due to the Russian invasion, Ukrainians were forced to face a much bigger and more powerful enemy, but they still were able to wage an effective fight against the invaders. Therefore, it is in Taiwanese national interest to exchange combat experience with Ukrainians. Kyiv is fighting for democratic values and is receiving support from fellow democratic nations. It will only be fair if Ukraine provides the support Taiwan needs to protect its democracy.
It must be taken into consideration that Ukraine doesn't have a stable democracy yet and needs to undergo reforms to become a fully democratic country. Kyiv could use the experience of Taipei in its transition from authoritarianism to democracy. It's worth noting that the modern ROC is one of the most exemplary democracies in the world, so it is in Ukraine's best interest to learn from the Taiwanese.
One could argue that by taking steps towards collaboration with Taipei, Kyiv would risk worsening its relations with the PRC. But would Ukraine really benefit from focusing on ties with Beijing once again? The PRC has not openly condemned the Russian invasion of Ukraine, has not sided with Kyiv in the UN, and has not yet expressed any readiness to support Ukraine after the war. Hoping to attract Chinese investors to Ukraine after the war could also be a risky path to take. Of course, one shouldn't overlook the benefits of Chinese investment, but it's worth taking into consideration the politics of "debt traps" that the PRC uses to exert pressure on poorer nations. Except that, Ukrainian public opinion is far from having a favorable view of the PRC and is emotionally siding with Taiwan.
International Cooperation with Taipei: Under the Watchful Eye of Beijing
Since the 1970s shift in recognition in favor of the People's Republic of China and the adoption of the "One China" policy, most UN countries have severed their official ties with Taiwan. In 2023 Honduras denounced their recognition of the ROC as an independent country, leaving Taipei with only 12 official ties. Such a turn of events is not critical though, as approximately a hundred other countries maintain unofficial relations with an island, including leading countries of the world.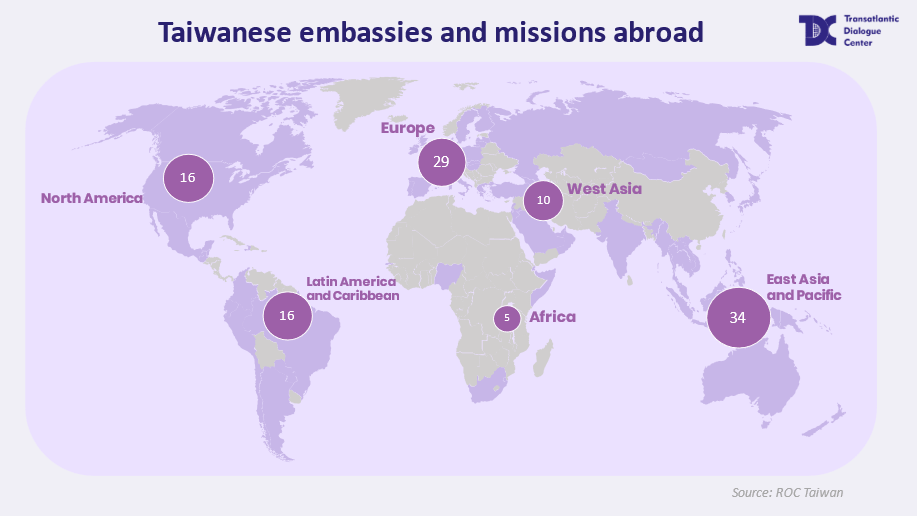 The U.S. has found a way to keep close ties with Taipei but at the same time avoid officially recognizing it. Since its adoption in 1979, a unique legal framework called the Taiwan Relations Act (TRA) has regulated the bilateral relations between Washington and Taipei. Due to its evasive terminology and formulations, the TRA has allowed the U.S. government to ally with Taiwan without violating the obligations assumed by the adoption of the "One China policy". According to the TRA, Washington can provide Taiwan with various kinds of arms with the notion that they are for defensive purposes. Moreover, this Act gave special authority to the American Institute in Taiwan by turning it into a de facto embassy of the U.S. On the territory of the U.S., there are currently 13 Taipei Economic and Cultural Offices – a clear sign that both countries cherish their bilateral ties.
Diplomatic relations of the EU countries with Taipei have also remained informal. Although European countries don't formally recognize the independence of the ROC, they still have close ties with Taiwan. In many countries of Europe, the Taipei Representative offices or Taipei Economic and Cultural offices are located, where they are responsible for maintaining bilateral relations. These offices serve the purpose of embassy and consulate of the ROC in the EU states but are not formally recognized as diplomatic institutions. The EU has also established the European Economic and Trade Office (EETO) on the territory of the island for de facto diplomatic purposes. Except that, the Holy See officially recognizes the independence of the ROC – a symbolic gesture from Europe, as the Vatican City is the religious epicenter for most EU countries.
Taiwan is also an important trading partner for the European countries – in 2022 the island nation ranked 12th in the list of top trading partners for the EU. They cooperate the most in the sphere of innovation and modern technology – more than 95% of goods imported by the EU from Taiwan were industrial products.
It is worth noting that Beijing tolerates the existence of representative offices but also has its boundaries towards them. When the Lithuanian government opened the Taiwanese Representative office on their territory in 2021, it led to massive pushback from China, a downgrade of diplomatic ties to chargé d'affaire, and a severance of economic ones. Although the leaders of the PRC have never officially announced any sanctions against Vilnius, China blocked almost all the exports from Lithuania and closed the market for Lithuanian companies. As Beijing considers the ROC its province under the name of Chinese Taipei, the change in the name was deemed unacceptable and led to a confrontation between Lithuania and the PRC.
It seems though that the Lithuanian case not only didn't scare other EU countries but led to a new trend: other Eastern European countries like Slovakia and Czechia are strengthening their bilateral relations with Taiwan and are becoming more critical towards China. Slovak and Taiwanese research institutes have recently signed an agreement on the research and development projects in the sphere of the semiconductor industry – with such a move, Bratislava hopes to start engaging cooperation between the two lands in the sphere of modern technology. While Slovakia is taking it slowly, its Eastern European counterparts are making symbolic political moves to show their support towards Taiwan. Latvia and Estonia have joined their Baltic sister Lithuania in the decision to leave the China-led forum 17+1 making it 14+1. Furthermore, new Czech President Petr Pavel spoke over the phone with Taiwanese President Tsai, accepting her congratulations on winning the election. In 2016 a similar symbolic move was made by Donald Trump whose policies toward China were quite unfavorable and aggressive. However, in comparison to Washington, European countries have traditionally avoided such high-ranking contacts with Taipei, fearing to enrage China, so the decision of the newly elected President of the Czech Republic was very brave and unprecedented.
Taiwanese representatives are taking advantage of the events in Ukraine and rising suspicions towards authoritarian countries to tighten their ties with the EU. This summer Taiwanese Foreign Minister Joseph Wu made a trip to Europe, visiting Poland, Czechia, and Brussels. During the visit, Wu met with the high-ranking officials of these countries and with the EU representatives. During 2023 the EU has also increased the frequency of their visits to Taiwan. During half of 2023, Europeans have made 20 visits to Taiwan, already topping the number of visits made last year – 17. Such tendencies are a clear sign that European leaders are considering strengthening their cooperation with Taipei.
In the wake of the war in the middle of Europe and China's growing impatience with the status quo in the Pacific, the EU must look into the future and their ties with both China and Taiwan more closely. Should the violence spark across the Strait, the EU will have to decide whether it is ready to support Taipei as it does Kyiv.
Strengthening Ties with Taiwan: Choosing the Right Strategy
The European model of cooperation with Taiwan has proved to be effective and flexible. The existence of representative offices allows avoiding direct confrontation with China and at the same time opens an opportunity for developing ties with Taipei. So, the easiest and probably the most effective path for Ukraine would be to adopt this model of relations with Taiwan. After the war is over, Ukraine could start by opening a Taipei Representative office in Kyiv and opening a Ukrainian one in Taiwan. Such a step would boost bilateral cooperation and serve as a groundwork for future engagement.
It is important to understand that opening a Representative Office doesn't mean radically breaking ties with the PRC, and that is its greatest advantage. It is obvious that Ukraine isn't ready for an open confrontation with China yet, but cooperation with the Taiwanese would also be beneficial. Kyiv could start by avoiding aggressive political statements or symbolic gestures and focus on the more peaceful aspects of cooperation like cultural, scientific, and economic ties. As already mentioned above, Ukraine would benefit from Taiwanese investments and cooperation in the field of modern technology and digitalization.
At the same time, strengthening ties with Taiwan can easily spark a confrontation with China, and every careless or emotional move might lead to severe pushback. This is especially true for Ukraine, which is already closely associated with the fight for freedom and democratic values – the same as Taiwan. That is why moves towards collaboration with Taiwan that were deemed acceptable by China before, if made by Ukraine, could trigger an entirely different reaction from Beijing. In the wake of Eastern European countries taking a more assertive stance towards China, Ukraine will have to be very careful if they wish to maintain more or less friendly relations with the PRC.
The possible escalation in the Cross-Strait relations is also presenting Ukraine with a challenge. If China were to attack Taiwan, should Ukraine openly support the latter, a nation they emotionally and practically side with, or should they take a more balanced approach without ruining relations with Beijing? Eventually, this unsettling question will have to be answered.
Conclusion
During the last few years, Ukraine and its fight for democracy have been at the center of the attention of the global community. This has allowed Kyiv to strengthen ties with its allies and develop new partnerships. One of the potential Ukrainian partners is the Republic of China.
As China hasn't proved to be a reliable partner and ally, Kyiv should consider strengthening ties with Taiwan. In order to benefit from bilateral relations with Taipei, Ukraine doesn't have to go radical, recognize Taiwanese independence, and sever ties with the PRC. It would be enough to go for EU-style cooperation with Taiwan – open mutual Representative offices and become more engaged in economic relations and trade. The Taiwanese could help Ukraine with the development of a stable democracy, digitalization, and investment, while Kyiv could share the experience in defense against a bigger and more powerful state. Such bilateral cooperation would also balance out Ukrainian dependence on Beijing which grew over the years that preceded the war. At the same time, Kyiv will need to take careful and measured steps toward developing relations with Taipei if it is not yet ready to give up on its ties to China.
Disclaimer: The views, thoughts, and opinions expressed in the papers published on this site belong solely to the authors, and not necessarily to the Transatlantic Dialogue Center, its committees, or its affiliated organizations. The papers are intended to stimulate dialogue and discussion and do not represent official policy positions of the Transatlantic Dialogue Center or any other organizations the authors may be associated with