After February 24 the EU, the US, and other countries condemned Russia's aggression toward Ukraine and began active implementation of various sanctions against it. Russia was partially cut off from the Swift system, high-tech shipments ceased, and international businesses began to withdraw from the Russian market. Comparing the response of the West in 2022 to the one in 2014 reveals that in addition to strong condemnation, the West began to act promptly and implement actions that were self-injurious. In addition to economic sanctions, Western countries attempted to expand humanitarian and financial assistance to Ukraine, but decisions and procedures regarding weapons were complex and extensive.
The Russian aggression against Ukraine has been ongoing since 2014. During 2014-2021, only a few NATO members, including the United States, the United Kingdom, Canada, Poland, the Czech Republic, and the Baltic states, supplied military aid to Ukraine. Anti-tank weapons, grenade launchers, armored vehicles, communications systems, night vision equipment, artillery reconnaissance radars, unmanned aerial vehicles, assault and sniper rifles, ammunition, helmets, bulletproof vests, and tactical ordnance were among the items provided (Ukraine received the most assistance from the US, totaling approximately $3 billion). The assistance was expanded to include naval capabilities in 2020, with the UK providing missile boats, anti-ship missiles, and mine destroyers, and the US providing patrol boats.
Because of the concentration of Russian troops on Ukraine's border in late 2021 and early 2022, Western military assistance was increased and expanded to include anti-aircraft weapons and artillery, as well as anti-tank ammunition. It attempted to deter the Russian invasion by signaling a willingness to raise the stakes by supplying Ukraine during the conflict. During this period, 33 countries also donated a large number of medical first aid and individual protection kits to Ukraine in order to reduce defenders' losses.
Most EU members (particularly Germany) were opposed to providing military equipment to Ukraine, fearing an escalation of the conflict and a deterioration of relations with Russia. However, the scale of the Russian invasion and its potential security consequences in Europe influenced many EU countries' positions (including Belgium, Denmark, Spain, the Netherlands, Germany, France, Finland, Sweden, and Slovakia). They decided to supply Ukraine with anti-tank and anti-aircraft weapons, as well as grenade launchers, machine guns, fuel supplies, ammunition, and other military equipment.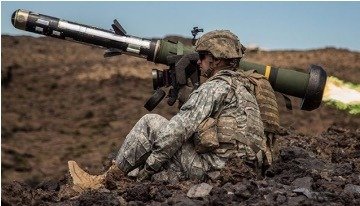 However, the number of weapons provided by Ukraine's partners at the beginning of the war was insignificant and was intended rather for subversive actions against the enemy, who had already occupied part of the Ukrainian lands, than for mass confrontation of troops. This was due to the fact that some experts in Western countries, including the United States, predicted that Ukraine would be able to hold out for a maximum of three days. In particular, this was reported by Fox News and the Washington Post, with the reference to anonymous and open sources among American officials and the military. This narrative influenced many countries that supported Ukraine to be reluctant to send serious weapons in large quantities. Together with the UK, the US had delivered several thousand Javelin and NLAW anti-tank systems at the time of the Russian invasion. Deliveries of ammunition, hand-held and mobile anti-aircraft sets, and Soviet-type air-to-air missiles compatible with Ukraine's armaments were made in March 2022. Simultaneously, supplies of Soviet-type tanks, combat vehicles, and artillery were launched from the Czech Republic, Poland, and Slovakia.
Military assistance to Ukraine was mostly bilateral, with no advance coordination or planning. Even before the war, Germany obstructed Estonian transfers of D-30 howitzers and the use of the NATO Support and Procurement Agency (NSPA). The proposal to supplement Bulgaria, Poland, and Slovakia's capabilities by transferring MiG-29 aircraft to Ukraine was also rejected by the US and NATO. Nonetheless, the EU has begun to provide military assistance, including lethal weapons, through its new European Peace Facility since the start of Russia's full-scale invasion. This is the first time the EU has used EU funds to directly fund military assistance to a third country.
Since the invasion began in late February, Ukrainian President Volodymyr Zelenskyi has repeatedly emphasized the country's need for heavy weapons such as tanks, artillery, and rocket launchers. Only the United States, Estonia, and Poland had sent heavy weapons to Ukraine as of the end of March, while Western and Northern European countries were more hesitant, sending infantry weapons or man-portable anti-tank weapons instead (e.g. Javelin, NLAW or MILAN launchers).
When Ukraine regained control of territories previously seized by Russia, and when massive Russian atrocities and large-scale shelling took place, Western countries' positions began to shift. In particular, at the end of March, following the Russian withdrawal from Bucha and the arrival of Ukrainian troops on April 1, the world saw videos of cities shortly occupied by Russian forces: war crimes and massive destruction were uncovered. This influenced other countries' positions. In April Canada, the Czech Republic, Australia, France, Belgium, Germany, the Netherlands, Denmark, Lithuania, Spain, Portugal, Slovakia, and Latvia declared their intention to send heavy weapons to Ukraine.
The protracted defense war and Ukraine's growing needs prompted the United States to establish the Ukraine Defense Contact Group (UDCG) in April 2022. It involves about a hundred liaison officers from the countries concerned and from Ukraine, located at the US base in Ramstein, and is often called the Ramstein meeting.
The UDCG currently has three working cells – on intelligence sharing and the current and long-term needs of Ukraine. The group also meets monthly at the ministerial level. The first meeting, organized by the United States, took place on April 26 and brought together representatives from 43 countries. On May 23, a meeting of 20 countries decided to provide military assistance to Ukraine. Around 50 countries attended the third Ramstein meeting, which resulted in the supply of long-range MLRS HIMARS, M270, and other weapons. The countries agreed to supply Ukraine with four M142 HIMARS systems during the next Ramstein-4 meeting, which took place online on July 20. On September 8, the United States announced a long-term support strategy, NATO a "winter package," Germany promised demining exercises, and Norway 160 missiles.
The Ramstein-6 meeting came two days after Russia launched massive missile strikes on cities, disabling water and power systems. Many of these strikes were shot down by anti-missile systems provided by the West, and this only reinforced Ukrainian calls for more air defense supplies. According to Valerii Zaluzhnyi, Commander-in-Chief of the Armed Forces of Ukraine, Ukraine is forced to repel these attacks with Soviet-era weapons that are in short supply. "The security of Ukraine and Europe is in the hands of our soldiers," said Zaluzhnyi after the attacks on October 10. On October 11, the United States announced that it would speed up the delivery of two advanced NASAMS air defense systems to Ukraine in order to help protect its skies. Previously, NASAMS was supposed to arrive in Ukraine by the end of autumn. The German Bundeswehr announced the transfer of additional PzH 2000 self-propelled howitzers and MARS II MLRS "in the next few weeks" after the attack. The Netherlands pledged to provide missiles worth more than €15 million to strengthen Ukraine's air and missile defenses. Canada announced a new aid package to Ukraine, which includes artillery shells worth $15.2 million.
The 7th Ramstein Summit took place alongside a massive missile attack on Ukraine and the fall of missiles in Poland. According to Defense Minister Oleksii Reznikov, the main topic at the Ramstein-7 meeting is the development of an echeloned air defense system. "The protection of the Ukrainian sky is our top priority and the Ramstein-7's top topic. We are collaborating with our partners to develop an integrated and layered air defense system. On the battlefield, we are preparing for winter", said the minister. Following the "Ramstein-7" results, Pentagon Chief Lloyd Austin stated that Ukraine would receive military aid packages from Sweden and Canada, additional HAWK air defense systems from Spain, and ammunition from Poland, Germany, and Greece.
The Center for Eastern Studies correctly points out that Ramstein-7 is the least successful of the meetings held in this format thus far. Apart from reports of additional deliveries from Greece and Poland, there was no new information about military support for the Ukrainian army. Packages from Canada, Germany, and Sweden had already been identified. When compared to Kyiv's requests, and especially in light of recent Russian missile attacks, they are extremely unsatisfactory for the Ukrainian side.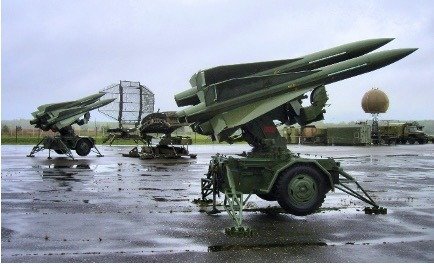 The Ukrainians demanded an acceleration and increase in NASAMS system deliveries, as well as the start of Patriot system and fighter aircraft deliveries (the American-made F-15 and F-16 were mentioned). Meanwhile, symbolic deliveries of older anti-aircraft missile systems from Spain and Sweden, as well as – most likely the largest, but involving only short-range weapons – from Poland, have been reported. So far, single batteries of IRIS-T and NASAMS systems have arrived in Ukraine, accounting for one-fourth of the armaments of these types promised by Germany and the United States, respectively, the majority of which are not expected to arrive until 2023. Kyiv should still receive a few older launchers by the end of the year (most – four Hawk systems – from Spain). This is far too few to effectively counter Russian missile attacks.
On the one hand, the volume of military assistance to Ukraine is increasing, but this process is accompanied by certain limitations. One of these limitations is the similar appearance of Western equipment – whether American, British, French, German, or Swedish, but differences in its maintenance. According to Ukrainian military expert Serhii Grabskyi, repair and the purchase of spare parts for the weapons is much more difficult than using the weapons themselves. Another challenge is that the appropriate ammunition must be supplied to the appropriate weapons. This supply process is not easy because of logistics, as Ukraine is a large country. Perhaps, taking into account the above factors, this is why the transition to Western weapons is slower than Kyiv would like. In addition, the technical base for the maintenance of Western equipment is being built in NATO member states, not in Ukraine.
The Institute for world economy (IFW) in Kiel has been tracking military aid to Ukraine since the beginning of the war and created a graph showing the Ukrainian authorities' expectations and requests for military aid, as well as the amount of aid provided by partners in comparison to the Ukrainian authorities' requests. The graph also illustrates the approximate amount of the same type of weapon in Russian army warehouses. The graph covers the period until August 3, 2022, but it is clear that military assistance to Ukraine is coming at a relatively slow rate and that more military assistance is required. In total, as of August 3, Ukraine received 568 armored vehicles (152 more to bedelivered), 252 tanks (8 more to be delivered), 191 155mm howitzers
(66 more to be delivered), and 31 MLRs (8 more to be delivered).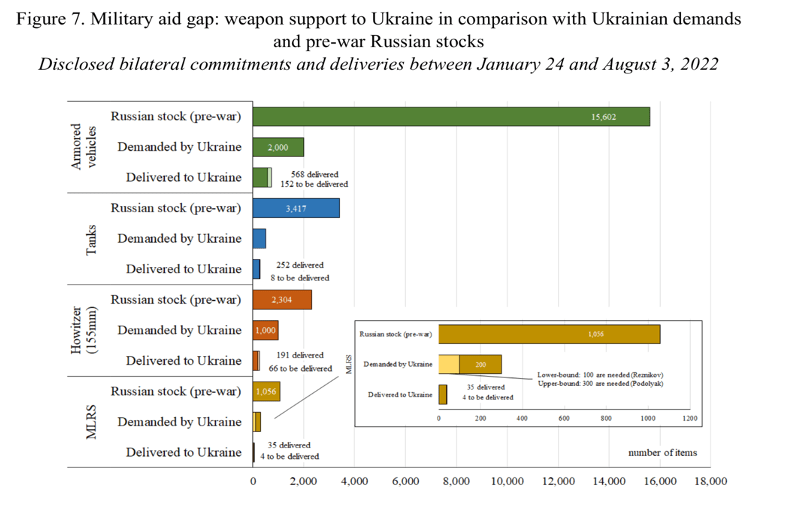 Russia has a significant technological advantage over Ukraine in areas such as tanks, infantry fighting vehicles, heavy artillery, guided missiles, aviation, and the navy. Russia may expect to increase its advantage with the elimination of Ukraine's ammunition reserves and repair facilities, as well as the West's potentially waning political will to provide material assistance in the form of armaments and ammunition.
Germany is a striking example of how some countries' uncertain willingness to assist Ukraine with weapons prevents Ukraine from defending its territories and conducting counterattacks. Kyiv requested military assistance in the form of tanks almost as soon as the Russian invasion began, but Berlin refused. Instead, it offered rocket launchers and armored vehicles to the Ukrainians. As soon as the war began, Germany announced military assistance to Ukraine. They handed over light weapons (including 3,000 Panzerfaust anti-tank grenade launchers, 3,500 very short-range Stinger anti-aircraft sets, 2,700 old Strela anti-aircraft sets, approximately 15,000 anti-tank mines, 100,000 hand grenades, and 100 machine guns), ammunition, individual soldier equipment, medical equipment, 280 vehicles of various types, and ammunition from the Bundeswehr's resources for free in the first two months.
Then heavy equipment deliveries began. In the following months, Ukraine received 15 Gepard anti-aircraft system kits with ammunition and ten PzH 2000 self-propelled howitzers. Ukraine also received three MARS multi-missile launchers. Germany has also announced the delivery of 15 Bergepanzer 2 technical security vehicles, 16 Biber tank bridges, three IRIS-T SLM short-range air defense batteries, COBRA artillery reconnaissance radar, 43 reconnaissance drones, 200 military trucks, and, most recently, two MARS II rocket launchers and 200 rockets, as well as 50 Dingo armored vehicles.
This may appear to be a large number, but when compared to other allies, Germany pales in comparison. As of August, Berlin had delivered only €0.7 billion in aid, far less than Poland (€1.8 billion), let alone the United Kingdom (£2.3 billion) or the United States ($13.5 billion). If military aid is expressed as a percentage of GDP, Germany ranks outside the top ten, trailing Estonia, Latvia, Poland, the Czech Republic, Lithuania, Slovakia, and Norway, among others. This is a dismal result for the world's fourth-largest economy and Europe's largest NATO ally.
The announcement of the transfer of more Gepard systems to the Ukrainian side indicates that Berlin is becoming less concerned with the needs of the Ukrainian army. German armament deliveries, rather than securing them, are increasingly causing problems. There is a constant shortage of ammunition for the Gepards who have already been handed over. The latest batch of vehicles had only one fire unit, and Switzerland blocked the delivery of 35×228 mm cartridges for the Oerlikon GDF automatic cannons that arm the Gepards to Ukraine in early November. A Ukrainian appeal to the authorities in Brazil, the only alternative producer of this ammunition, was also unanswered. The start of production of 35×228 mm cartridges by the Spanish company Expal Systems S.A., which has been acquired by Germany's Rheinmetall, is expected to alleviate the situation (it will take at least several months to start production).
The issue of Gepards ammunition is not the only one concerning German military assistance to Ukraine. Kyiv has recently drawn public attention to the lack of missiles for IRIS-T systems. Due to wear and tear, as well as associated damage and failures, the PzH 2000 self-propelled cannon howitzers require a major overhaul. This is because the Bundeswehr, which ordered these vehicles, intended to use them only in low-intensity operations. It should be noted that, while Germany refuses to supply Ukraine with tanks, it has recently provided it with tractors to transport them.
Germany explains its arms-supply decisions in a variety of ways. One of the reasons, mentioned by different representatives of SPD is a lack of deliveries of Western-made tanks and infantry fighting vehicles from key NATO allies, primarily the United States. Another reason is the problem of the Bundeswehr's poor condition and lack of equipment, which limits the ability to supply weapons from the German armed forces' warehouses. German ruling coalition justified the decision to refuse tank supplies to Ukraine on the grounds that training Ukrainian soldiers to use tanks would take longer. It should also be noted that, as a result of its historical experience, Germany has a pacifist sentiment and an approach that assumes they do not support parties to armed conflicts with arms supplies.
Summing up, the challenges in the supply of Western weapons to Ukraine are mainly related to the fact that all processes are not fast and take more time. Before and immediately after February 24, Western countries needed time to see with their own eyes that Ukraine is capable of holding out for more than three days. Later, Western countries saw that Ukrainians are able to master Western-style equipment, are able to win battles, and liberate occupied lands with limited military resources. Unfortunately, Western countries also needed time to see what horrors Russia is capable of and that the deaths of many Ukrainian civilians will not stop Russia from carrying out massive attacks. As a result of these attacks, as well as the consequences of the occupation, Western partners are more willing to help Ukraine with heavier weapons. However, the majority of Western weapons today are still short-range systems that can be deployed within a radius of tens of kilometers, and long-range missiles, as well as Western aircraft and battle tanks, are still Kyiv's unfulfilled desire. Ukraine's long-term defense will require the supply of more air and missile defense systems, as well as the rebuilding of its air force with Western aircraft. Even more weapons will be needed to regain control of occupied lands and to launch counterattacks on land and sea. This also takes time, but all Western partners should also remember that during this time, when Ukraine is fighting, withstanding massive brutal attacks, and asking for additional weapons, it is paying with the lives of its people.
Yelyzaveta Vyshnevska, TDC Analyst