00:00
The number of victims who died as a result of the shelling in Kramatorsk reached 52. Among them there were 5 children.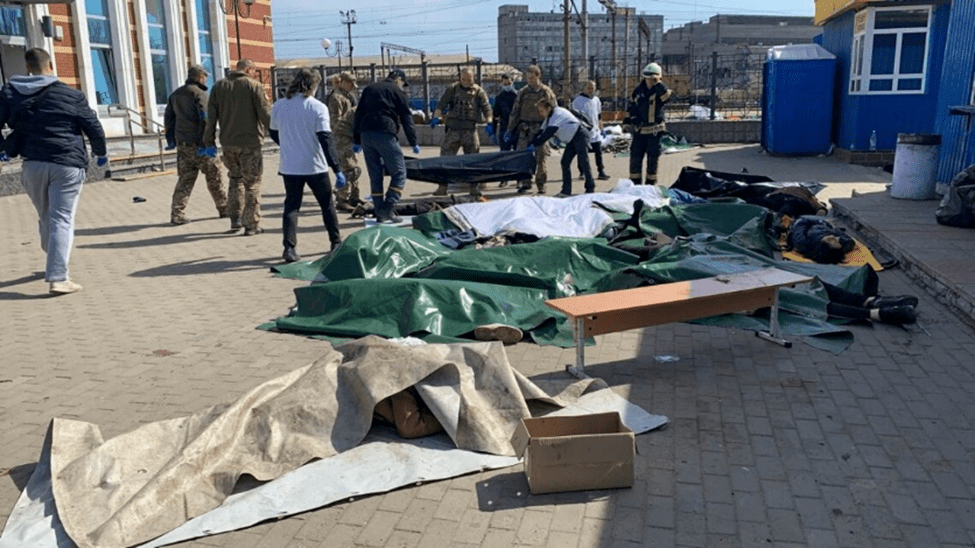 2:00
78-year-old writer Eugene Ball died near Mariupol after being tortured by Russians.
A representative of the National Union of Writers of Ukraine Pavlo Kushch announced this on Facebook.
'Captain of 1 rank, writer and journalist Eugene Ball died after being tortured by Russian orcs for three days. Yesterday (April 7 – ed.), on this bright holiday, he would have turned 79 years old.'
According to the representative, the invaders broke into the writer's apartment on March 18. During a search of his home, they found photos of Ukrainian defenders and other 'evidence of fascism.' For three days this man had been brutally tortured.
'He confirmed that he had been severely beaten over the past three days and had been seriously injured, but assured that he would recover.', notes Pavlo Kushch.
The invaders released a 78-year-old man on March 21 saying that 'we are not at war with veterans of the USSR Navy.' But he could not recover from the abuse. His heart stopped beating on April 2. He did not live 6 more days to turn out 79 years old.
​3:00
Russian soldiers killed a family of four people in Avdiivka, Donetsk region. As of 8 April, the total number of civilians who dies as a result of shelling in the region is 58 people.
5:00
It will take at least 4 years to rebuild Chernihiv after the Russian shelling, the mayor states. He previously said that 70% of the city was destroyed.
'It will take four years to rebuild Chernihiv if we work fast and have all the funding. Construction will take 3 years, and a year is needed for the projecst,' said Atroshenko.
According to him, in such terms, it is possible to rebuild the city in normal conditions. The reality may be different, because, for example, in Ukraine, there are currently no technologies for dismantling damaged 'big concrete buildings' located in the vicinity of other apartment buildings.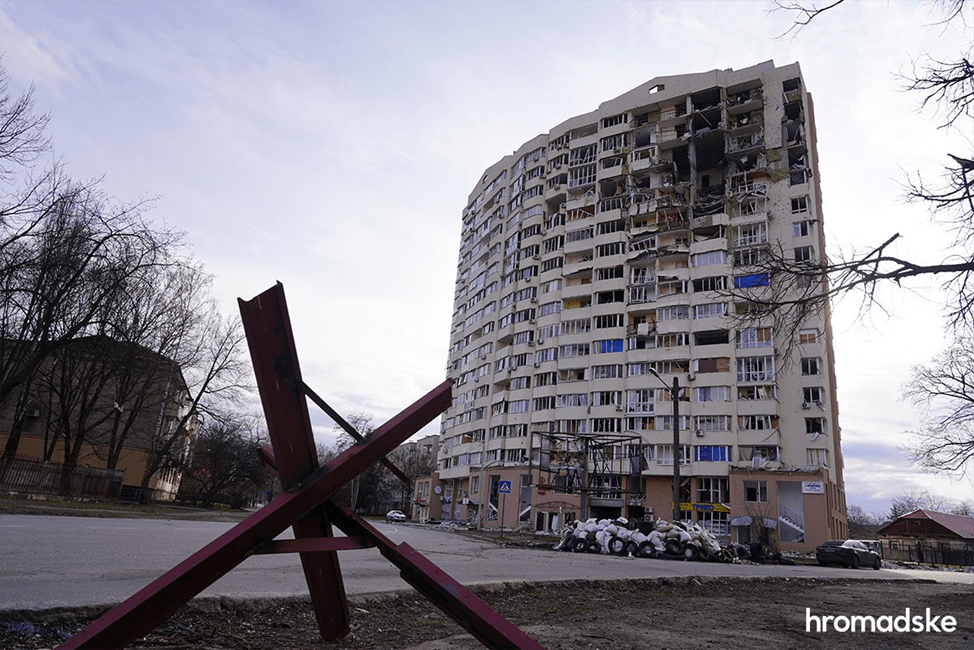 6:00
Ukrainian soldiers had shot down OTR-21 Tochka rocket launched by Russians from the territory of Belarus, one of Chernihiv defenders reported on Facebook.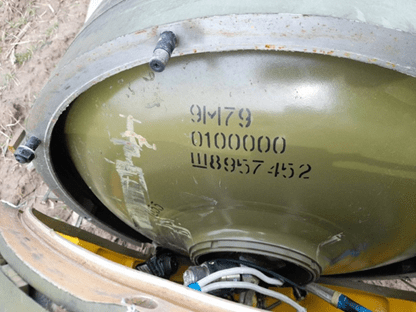 'These are the remains of the OTR-21Tochka rocket in Chernihiv region. It fell. Not alone. It was launched from the territory of Belarus. And it could have exploded over us. And today rockets hit the station in Kramatorsk, Donetsk region. Fifty civilians were killed and more than a hundred wounded, including children … This is the same tragedy as in Bucha and Irpin near Kyiv, as in near Chernihiv, as in Mariupol and other towns and villages,'  the military officer commented on the photo.
7:00
The Pentagon confirmed that the OTR-21Tochka missile that hit Kramatorsk station had been launched by Russians.
The missile attack on the Kramatorsk railway station in Donetsk region on April 8, which killed more than 50 people, was carried out by the Russian military, despite attempts by the Russian command to absolve itself of responsibility.
The statement was made by a high-ranking official of the US Department of Defense at a closed briefing for journalists, Ukrinform reports with reference to Radio Svoboda.
'Obviously, we didn't believe the Russians that they are not responsible (for this missile strike – ed.). At first, they claimed a successful strike, but then denied it as soon as the consequences were announced,' the Pentagon said.
8:00
An apartment building caught fire in the Luhansk region due to enemy shelling. The number of victims is being clarified.
10:30
Employees of the Chernobyl nuclear power plant, which had been captured by Russian invaders on the first day of the war, said that they had been interrogated every day and tried hard to find fuel to prevent the release of radiation. They even stole fuel from Russian soldiers.
11:00
The mayor of the Chornomorsk city in Odesa region reported that there had been an explosion, but without victims, the situation was under control. The full information will follow up later.
13:00
The Verkhovna Rada Commissioner for Human Rights Lyudmyla Denysova announced that as of the morning of April 9, local authorities had confirmed that 360 civilians had been killed by Russians in Bucha.
"In the city of Bucha on Yablunska Street, a real torture chamber was set up by the ruscists. According to the survivors' testimonies, the Kadyrovites established headquarters there. They shot people in the face, burned their eyes, cut off body parts, and tortured to death not only adults but also children."
15:00
Photographer and documentary filmmaker travels to the villages of Kyiv region, that were liberated by the Ukrainian military from Russian occupation. This time he took a photo of a killed civilian found north of Hostomel.
He had his hands tied and was shot. The documentary filmmaker also took other pictures of the alleged liberation.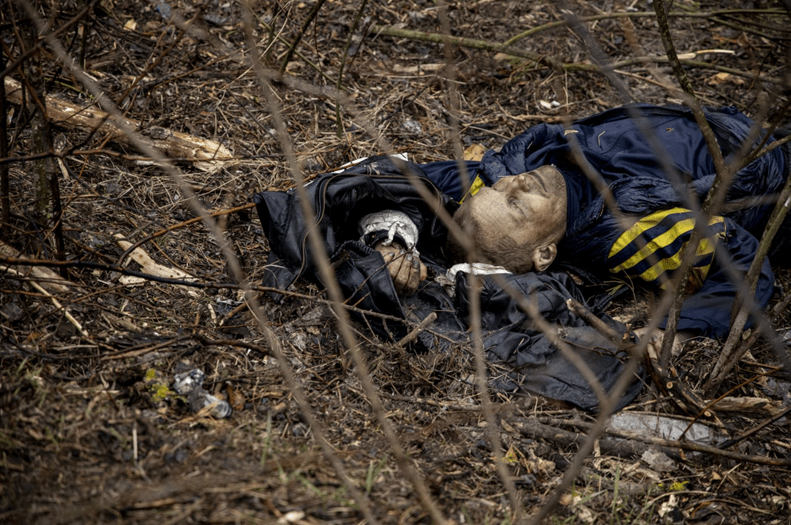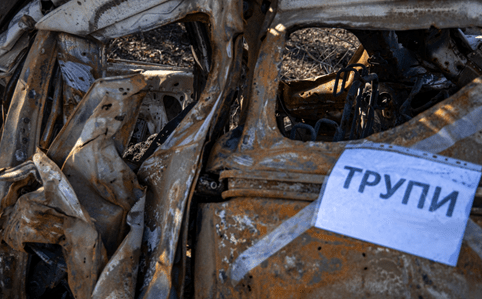 The sign says "Corpses"
16:00
Russian troops hit the tank with nitric acid in Luhansk region again, the Head of the Regional State Administration reports.
According to preliminary information, a tank with 4 tons of acid exploded.
In such situations, people are advised to close the windows tightly and not to go outside without necessity, because acid fumes are dangerous. Usually, you need to use gas masks to protect yourself from them.
Let us remind you the effects of nitric acid exposure: acid vapors cause irritation to the respiratory tract. Mild poisoning leads to signs of bronchitis, easy bronchiolitis, dizziness, drowsiness; severe poisoning – to pulmonary edema.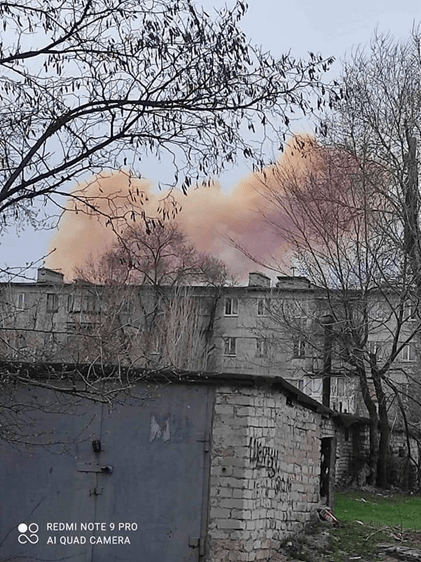 17:00
Russian soldiers illegally arrest civilians in Kherson and Zaporozhzhia and send them to pre-trial detention centers in Crimea. They are being brutally tortured there, says the national leader of the Crimean Tatars, Mustafa Dzhemilev.
18:00
In Kharkiv, after the missile attack seven people were pulled out from under the rubble, eight more were evacuated. Information on the casualties is currently being clarified.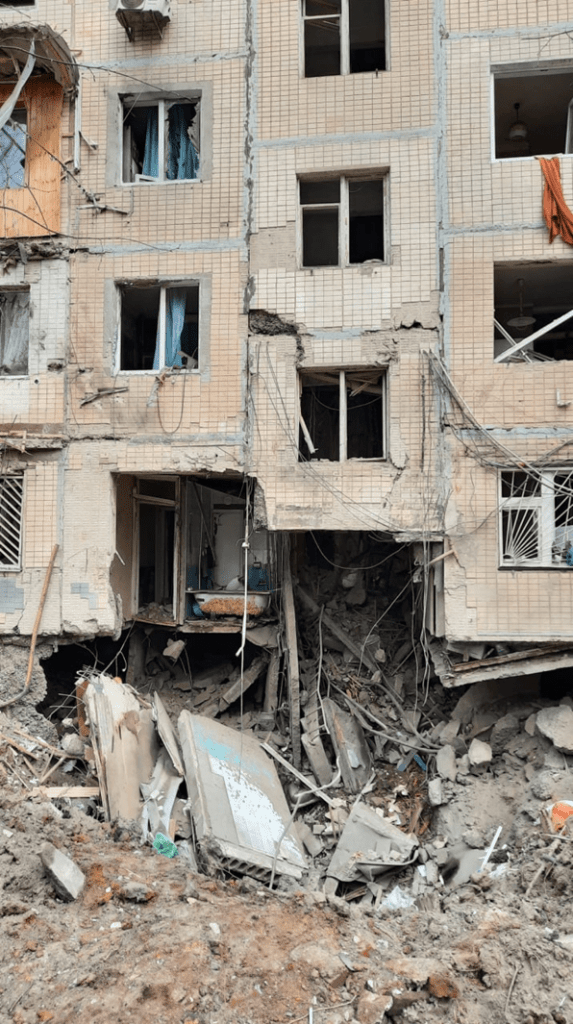 19:00
In the underground passage on the outskirts of Mariupol, the bodies of killed civilians were found. The City Council says that the Russian military has set up a collection point there. The invaders transport hundreds of corpses to similar sites every day and then destroy them in mobile crematoria or bury them in mass graves.