00:00
Invaders bombed Theatre of Drama in Mariupol despite the large inscription «CHILDREN» spelled out on the ground nearby that could be seen well from the sky. Hundreds of civilians were taking shelter inside.
Private American company Mawar Technologies shared satellite imagery taken on March 14. The theater can be seen in those photos.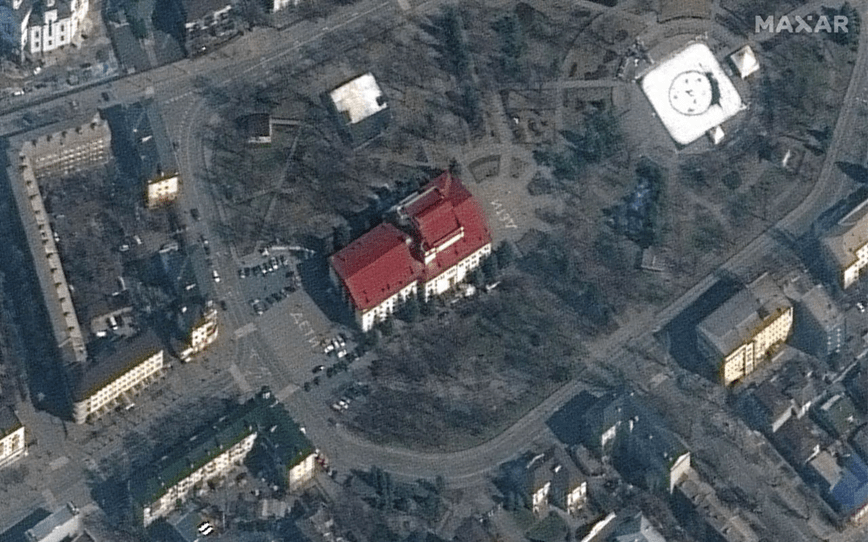 03:00
Russians break into houses, kick out owners and take their food away in villages of Sumy area, which they enter looking for places to sleep.
« Each orc has to understand that they will find their end here. They invited their deaths by stepping on our land, and they will die like pigs. This will be our revenge for every drop of blood spilled, for the suffering and fretting of our people and children», emphasized the head of Sumy Regional State Administration, Dmytro Zhyvytskyi.

04:00
Throughout the war in Ukraine, Russian missiles hit three ships under the flag of Panama in the Black Sea.
Those ships were Namura Queen, Lord Nelson, and Helt. One ship sank, but the number of victims is unknown. The other two were damaged but remained afloat.
Source: Reuters, referencing Noriel Arauz, the administrator of the Panama Maritime Authority (AMP).
06:00
Fall of a downed missile caused damage and ignited a fire in the multi-story house in Darnystkyi district, informs DSNS.
According to preliminary information, two apartment buildings were damaged, one person was killed. Out of four injured, two were hospitalized.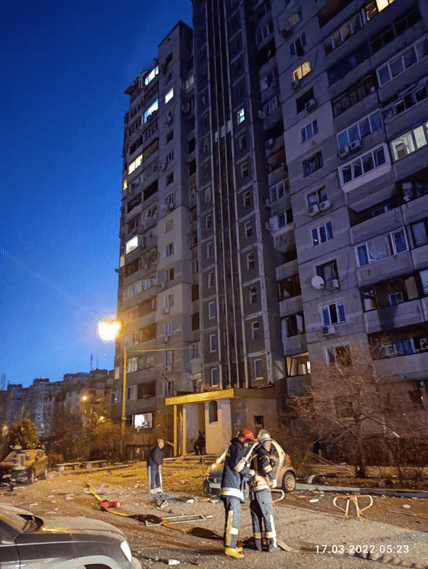 07:00
A school, recreation center, and residential building were ruined in Meref, Kharkiv region due to Russian shelling, reported the Head of Meref Regional Council Veniamin Sitov.
Institutes of horticulture and watermelon growing, located near the recreation center, were also damaged.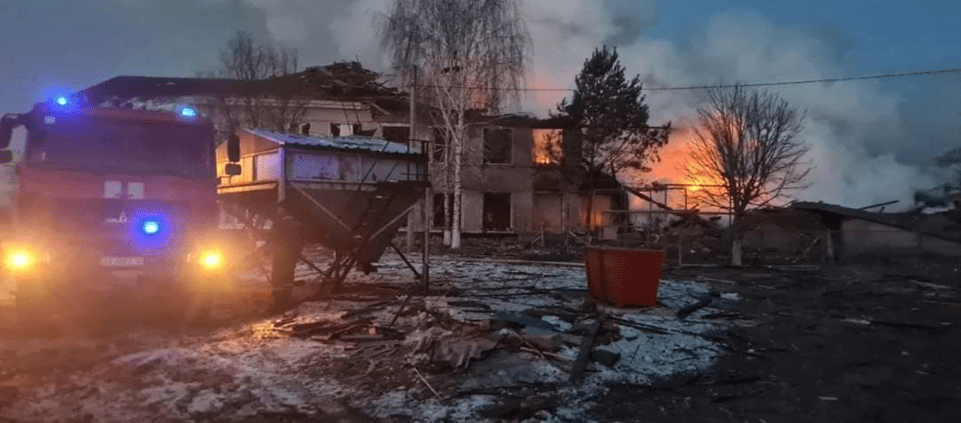 08:00
Invaders kept shelling Rubizhne throughout the whole night. At least 27 houses were hit, in some areas, the entire streets were damaged, reported the Head of Luhansk Regional State Administration, Serhii Haidai.
«Dozens of lives were ruined in one night. Relatives of the residents are getting killed, and their houses burn. Yet, the Russian army deliberately keeps shelling civilians without letting them evacuate safely. A few days ago, we saw them shooting up evacuation buses with refugees in Rubizhne yesterday. They did the same in Mariupol. We barely managed to evacuate women and children from Popasna. Russians don't let people escape and, at the same time, ruin their houses, so they can't stay here, either. But we try to evacuate as many people from the region as possible every day. At the same time, Forces of Ukraine do everything they can to protect us from the enemy», said the Head of Regional State Administration, Serhii Haidai.
At least five fires broke out in Popasna, one in Sievierodonetsk. Information concerning the victims is being verified.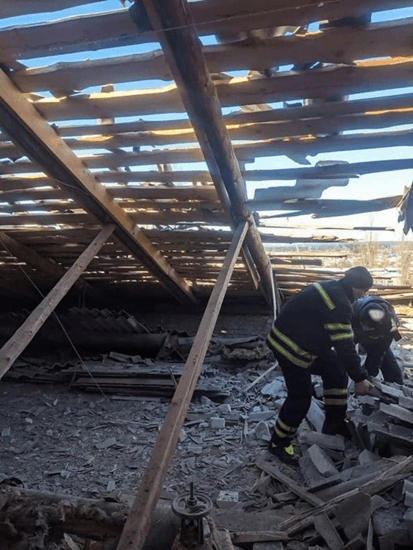 09:00
Advisor to the Interior Minister Vadim Denysenko stated on air of Ukrainian channels that the situation in Mariupol is catastrophic and complicated.
«We don't have confirmed information about Mariupol that is eligible for publicizing. Sadly, the situation there is tough», he stated.
10:00
On March 16, invaders shelled a peaceful village Marianske in Kryvyi Rih region with «Grads,» informed the Head of the Kryvyi Rih Regional State Administration, Oleksandr Vilkul.
«They hit the perimeter of a pumping station which transfers water from Kakhovka water reservoir to Kryvyi Rih reservoir Pivdenne. The experts are determining the impact and necessary repairs», said Vilkul.
11:00
On March 16, 53 people were killed in the shelling of Chernihiv by Russian occupation forces, said Head of Chernihiv Regional State Administration Viacheslav Chaus.
"The enemy continues systemic artillery shelling and airstrikes on the regional center. They destroy infrastructure. We are bearing huge losses. 53 persons were killed by Russian aggressors yesterday. We will revenge deaths of each one of them and wipe out the enemy», said Mr. Chaus.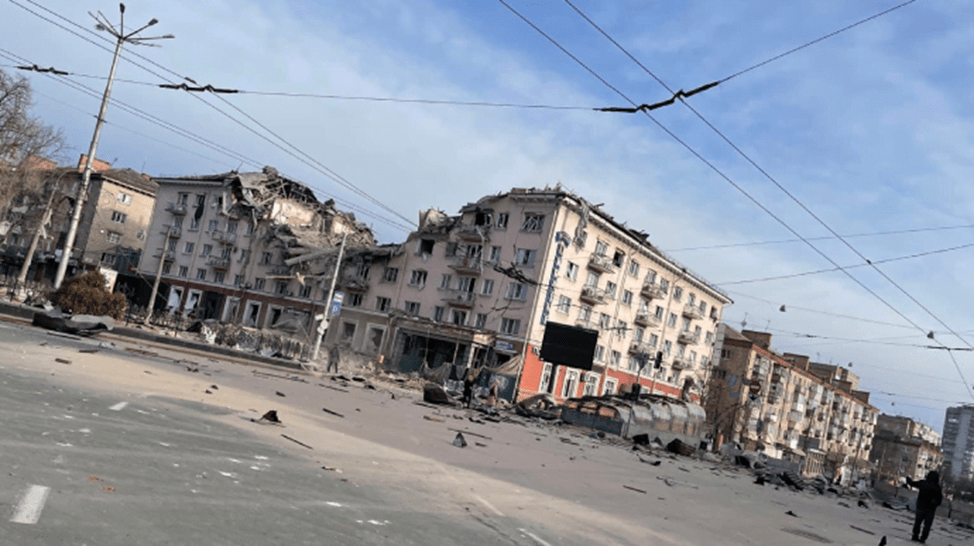 13:00
Ukraine's Ombudswoman Lyudmyla Denisova reports that in the Sumy region, the invaders are evicting people from their houses and looting. Taking advantage of the lack of humanitarian corridors, they held "armed marches" in the region. The villages where the enemy decides to stay overnight suffer the most: the Russians break into houses, throw people out on the street and take away food. Livestock and poultry are slaughtered.
14:00
In Chernihiv, a family of five people, including three children and their parents, was pulled out by rescuers when dismantling the building structures. They all died in an air strike on a dormitory on March 13.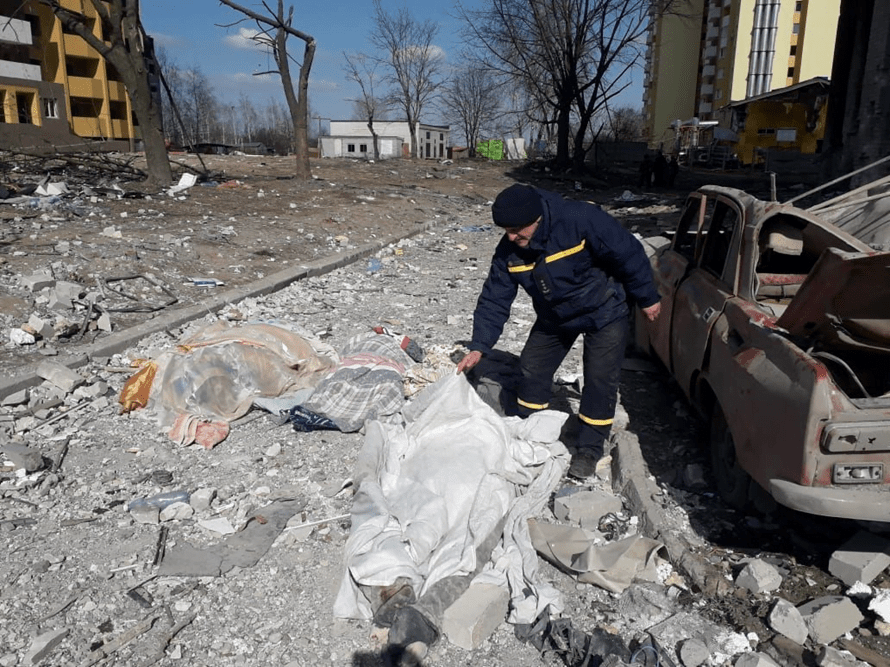 16:00
The invaders shelled the town of Merefa in the Kharkiv region at night, according to the Kharkiv Regional Prosecutor's Office. 21 people were killed and 25 more were injured, 10 out of them are in critical condition. The rubble removal is still ongoing.
17:00
The occupants fired on the bus with people evacuating from Popasna, said Serhiy Haidai, Head of the Luhansk Regional State Administration.
Russians managed to damage the door, but the bus eventually reached one of the railway stations in Donetsk region. The bus was carrying people who had lived in a bomb shelter for several days because of the shelling.
18:00
Mariupol City Council reports that the situation in the city remains critical. According to the City Council estimates, from 50 to 100 air bombs are dropped on Mariupol per day.
Tentatively, about 80% of the city's housing stock is destroyed, of which almost 30% cannot be restored. Since the besiege of Mariupol, about 30,000 people have been able to leave the city by private vehicles. At the same time, 350,000 people still remain in the city.
19:00
In the last few hours, the invaders have fired cluster munitions on Kozach Lopan in Kharkiv region, Head of the Dergachiv Territorial Community Vyacheslav Zadorenko reports.
In addition, the Russian army shelled Novi Petrivtsi in Kyiv region. As a result, a two-year-old child was killed and 4 people were injured, according to Kyiv region police. Apartment building was also destroyed because of the shelling.
Sviatoshynskyi district of Kyiv was also severely damaged, with several fires broken out as a result of the shelling, according to the State Emergency Service of Ukraine.
20:00
In Siverskodonetsk, the invaders fired on a shelter for mothers with children, according to Serhiy Haidai, Head of the Luhansk Regional State Administration. Residents and employees of the institution are now in safety.
"Many mothers with babies were hiding from hostile shelling in this building, but Russia chased them down even there. There is no safe place in Luhansk region anymore."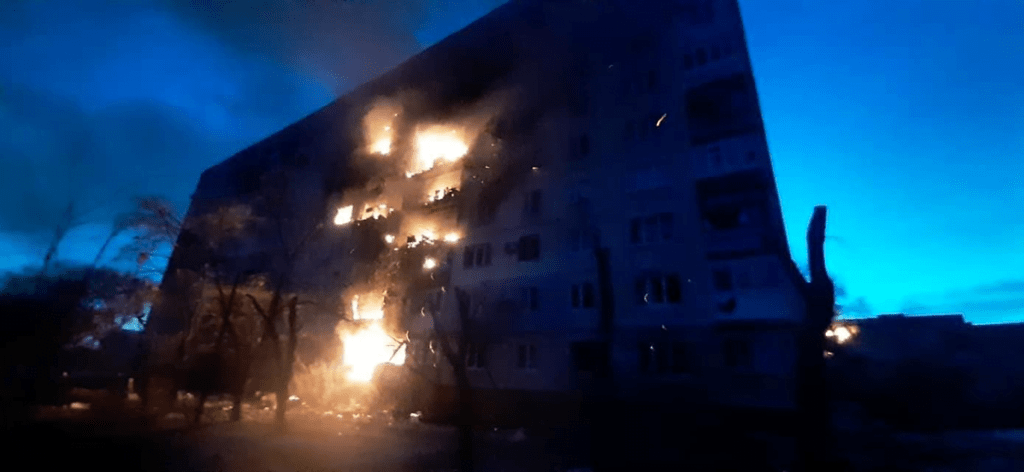 21:00
In the afternoon, a large-scale fire broke out in the Barabashovo market as a result of the enemy shelling in Kharkiv. As of now, the fire has spread to private homes, according to the SESU. One rescuer died, another is injured.
_____
According to Kyiv police, the occupants fired the localities of Buchansky district from "Grad" and "Smerch" rocket launchers. One of the state enterprises of Irpin, destroyed Romaniv Bridge, Lychanka, Sytnyaky and Petrushky residential buildings got under fire. In Lychanka, there was one person killed and in Sytnyaky – one injured.