00:00
A 14-year-old girl, raped by Russians in Bucha and now pregnant, has to keep a child so that she can further have children. The family chose not to get an abortion for the health of their teenage child.
This is one of the worst cases of rape in Bucha that happened during the occupation – a teenage girl was gang raped by 5 Russians. Psychologists are currently working with the family and the sexual violence survivor.
​02:00
We will NEVER forgive!
Hundreds of people are hiding in Azovstal bomb shelters. Unfortunately, a little girl had died from one of the Russian bombings there, announced Ukrainian defender Ivan Bohdan. He shared a painful story about the deceased.
02:00
The US House of Representatives supported the bill on confiscation of Russian assets in favor of Ukraine.
The US House of Representatives passed a bill that would allow the arrest of assets of Russian oligarchs and Russian government officials to support and rebuild Ukraine after the war.
The document provides for the arrest and sale of assets of Russian oligarchs "to support Ukraine's further struggle for freedom." 417 congressmen voted in favor of the bill, eight opposed and five abstained.
02:30
In Kherson, there were explosions near the TV tower, as a result of which Russian TV channels stopped working.
03:00
Canada's Parliament recognized Russia's crimes in Ukraine as genocide.
According to Ukrinform correspondent, the resolution made by MP Heather McPherson received unanimous support from members of the House of Commons.
"There is a clear and ample evidence of systematic and massive war crimes and crimes against humanity being committed against the people of Ukraine by the Armed Forces of Russian federation directed by President Vladimir Putin and others within the Russian parliament … the document reads.
The resolution lists crimes committed by the Russian military, including the deliberate killing and abuse of civilians, the forced deportation of Ukrainian children to Russia, torture and rape.
08:00
The head of the Dnipropetrovsk Regional State Administration Valentyn Reznichenko reports about the "attack" on Synelnykiv district.
The occupiers "successfully demilitarized" the abandoned industrial zone, there was nothing there," Reznichenko said.
​09:00
Over the last day four people died, four more were wounded, 10 houses were destroyed in Popasnaya, and 13 houses – in Lysychansk, Luhansk region.
09:20
217 toys in Kamyansky that will never be needed again…
Bicycles, skates, scooters, cars, bears, dolls. Each of these toys had its little owner.
Our children were killed by Russia. We will not forgive.
​10:00
Russian air-to-ground missile X-55 hit private houses in Zaporozhzhia. Currently, it is known about 3 victims, one of them is a child.
11:00
Azov Regiment reported that last night Russian invaders launched around 50 air strikes on Mariupol and dropped a large number of phosphorus bombs. Azov soldiers called on the authorities to take decisive measures to unblock the city or evacuate residents and defenders.
11:30
Russians damaged 27 houses in a small village of Lastochkine in Donetsk region. Three of these houses were directly hit by shells.
12:00
Over the two months of full-scale war in Ukraine, Russia has almost doubled its revenues from energy supplies sales. In the last two months, Russia has earned a total of 62 billion euros.
EU countries have paid about 44 billion euros for Russian gas, oil and coal. For the whole 2021 year, the EU paid 140 billion euros, or 12 billion euros per month. Germany is the largest importer.
13:00
As a result of the shelling of Zaporozhzhia this morning, 12 buildings in the private sector were damaged. 5 people were injured. One child and two women with minor injuries are now receiving hospital treatment. Two men were examined by ambulance doctors, they refused to be hospitalized, said the secretary of the Zaporozhzhia City Council Anatoliy Kurtev.
Communal services, law enforcement officers, doctors and rescuers are working at the site of the shelling. The city council is working on resettling people who lost their homes as a result of the shelling.
14:00
Restoration of water supply In Lysychansk, Luhansk region, is possible only after the end of hostilities, residents of the city are recommended to evacuate, says the head of Lysychansk Alexander Zaika.
16:00
The invaders took more than 2,000 unique museum exhibits from Mariupol to occupied Donetsk. Among them are original works by Arkhip Kuindzhi and Ivan Aivazovsky, ancient icons, a unique handwritten Torah scroll, and more than 200 medals from the Efim Harabet Museum of Medal Art, Mariupol City Council reports.
17:00
In the morning of April 28, Russian troops launched an air strike on New York [ed. Ukrainian settlement], Donetsk region. As a result, three civilians died.
17:20
Russian forces bombed a military hospital at the Azovstal plant in Mariupol. As a result, the operating room collapsed, killing severely wounded soldiers who were there receiving treatment.
18:00
On the morning of April 28, Russian soldiers shelled the village of Pokotylivka, Kharkiv region. Two men were killed as a result of the shelling. Seven more civilians were injured. Around 30 houses and a school were damaged.
19:00
A column of smoke rose over one of districts of the capital after the explosion. Two missile attacks were reported.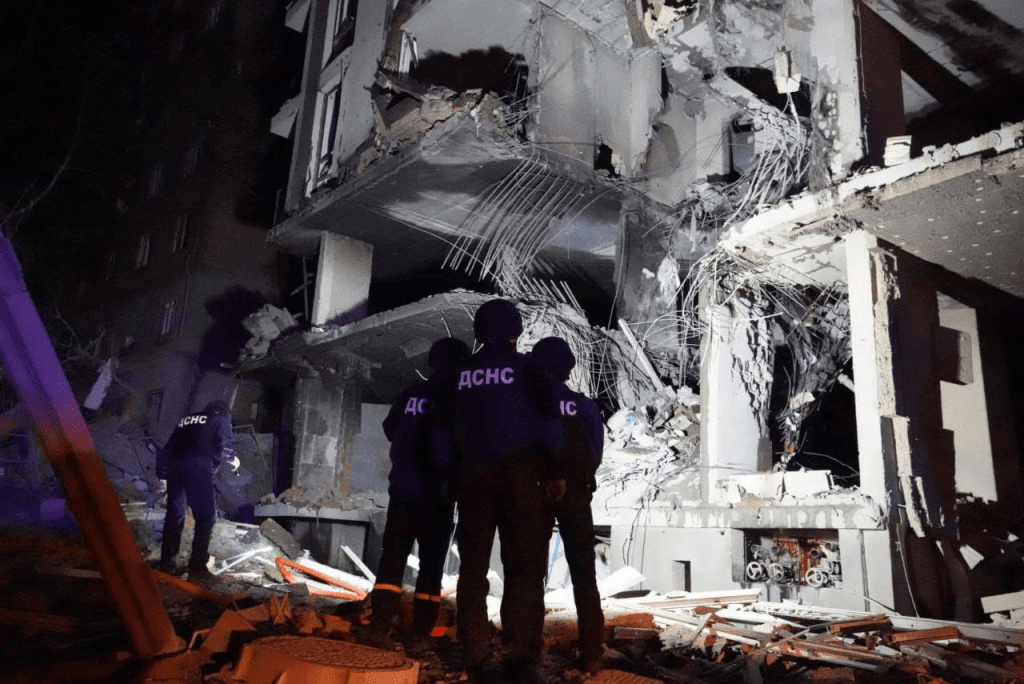 20:00
In Fastiv, Kyiv region, residents heard two powerful explosions.