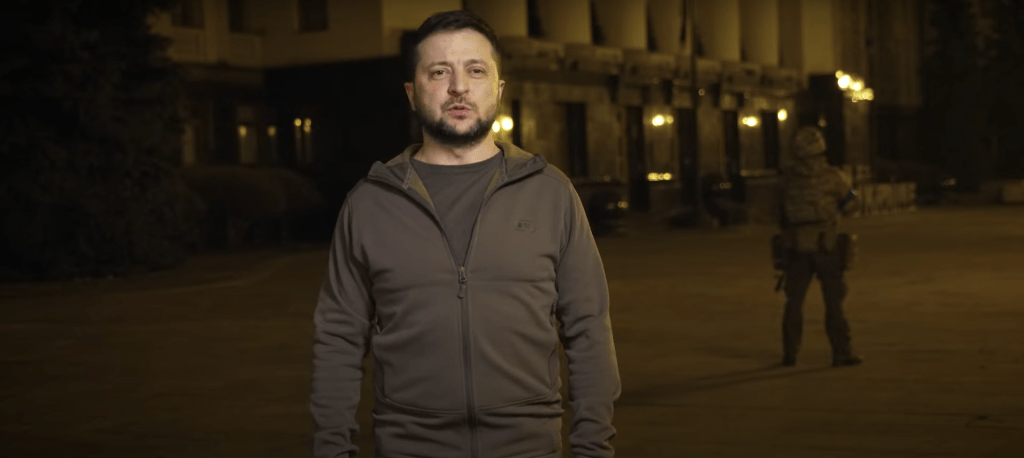 We, the world and history will take from Russia much more than Russian missiles will take from Ukraine – address by President Volodymyr Zelenskyy
Ukrainians!
Our defenders!
The 54th day of our defense against the Russian invasion is coming to an end. The Russian army is not slowing down the use of missiles against Ukraine. Although it should have realized that it will be extremely difficult for it to restore the missile arsenal given even already imposed sanctions. Without imports, they can't even do that. And when all the loopholes used to circumvent sanctions are closed, and when even tougher sanctions are imposed, restoring Russia's missile capabilities will be unrealistic. That is, Russian missile strikes lead to only one thing – missile self-demilitarization of the Russian Federation.
A similar process is taking place with other Russian weapons. Producing new artillery, aircraft, new helicopters and cruisers under sanctions will be a daunting task for Russia.
None of the missile strikes has changed the situation for Russia tangibly. And if you evaluate them all together, the conclusion will be – this is strategic nonsense.
Today's strikes at Lviv, at the Dnipropetrovsk region and any other Russian strikes mean only one thing: we, the world and history will take from Russia much more than Russian missiles will take from Ukraine. Every lost life is an argument for Ukrainians and other free nations to perceive Russia exclusively as a threat generation after generation. And any infrastructure can be restored. And we will definitely do it.
In the east and south of our country, the occupiers are recently trying to attack in a little more thought-out manner than before. They are putting pressure, looking for a weak spot in the defense of our state to go there with the main forces…
Apparently, Russian generals, accustomed to neglecting any losses, have already killed so many Russian servicemen that even they have to be more careful, as there will be no one left to attack.
However, they should not hope this will help them. It is only a matter of time when the whole territory of our state will be liberated. It can now be stated that Russian troops have begun the battle for Donbas, for which they have been preparing for a long time. A very large part of the entire Russian army is now focused on this offensive.
No matter how many Russian soldiers are driven there, we will fight. We will defend ourselves. We will do it daily. We will not give up anything Ukrainian, and we do not need what's not ours.
And I am grateful to all our fighters, to all our heroic cities in Donbas, to Mariupol, and also to the cities of the Kharkiv region which are holding on, defending the fate of the whole state, repelling the forces of invaders. Rubizhne, Popasna, Zolote, Lysychansk, Severodonetsk, Kramatorsk and all others that have been with Ukraine all these years and forever.
I spoke with the President of the Republic of Lithuania and friend of our country Gitanas Nausėda. I informed him about the situation in the combat zones and especially about the situation in Mariupol. We are coordinating our actions to increase Russia's liability for the war.
I also spoke with the Prime Ministers of Bulgaria and Croatia. About the threats created by Russia to free navigation in the Black Sea, about our cooperation at the level of the European Union, about the effective support for Ukraine and the development of solutions for the restoration of peace.
I held an important meeting today on the post-war reconstruction and development of Ukraine. We need to work out everything in detail already now to be fully prepared when the war is over.
We are developing a comprehensive plan that provides for the reconstruction of what's destroyed, the modernization of state structures and the maximum acceleration of Ukraine's development. It is not just about the amount of physical work – to build housing, restore businesses, attract new businesses that will work to rebuild infrastructure and renew economic relations in our country. It is also about rethinking how our country will develop in the future. What industries can be the basis of growth after the war. What solutions and resources are needed to increase the level of processing in Ukraine and stop selling raw materials, as it was before. Which cities will become the locomotives of economic and technological growth, pulling up the surrounding areas.
As of now – if you listen carefully to all the discussions that are taking place in our country at different levels about the post-war reconstruction – the main topic in them is actually about money. What financial package is needed to recover from the war? But I always emphasize that money is not the foundation for the country's development. Ideas, people – that's the foundation. And when there are ideas, when there are our people, you begin to see what money is needed for and in what amount.
We need to have a clear vision of this or that branch of our economy, the direction of development we expect from this or that city, the benefits this or that institution can bring to the state as a whole.
Of course, for small and medium-sized businesses we must provide the most comfortable and free environment. In terms of taxes and administrative relations. Of course, digitization is a top priority. Security is also a top priority for us. Defensive potential must be at a new level. Of course, judicial, anti-corruption and other important reforms need to be brought to fruition.
But all this must work for a concrete vision of what Ukraine will be like. What it will be like a year after the war, 5 years after the war, 10, 20 years after. What exactly will be important for our people. What exactly will be important for global business. How many jobs and in what industries will be available to Ukrainians.
Ukraine's accession to the European Union is an integral part of this strategic vision. And in this context, today was a historic event – we are going through one of the stages before joining the EU. We provided answers to a questionnaire received from Ursula von der Leyen, President of the European Commission, and Josep Borrell, Head of European Diplomacy.
Each country that joined the European Union went through the same procedure with the questionnaire. The only difference is that it took them years, and we completed it in a little more than a week. We will provide the second part of the answers shortly. And we hope that Europe's decision in response will be quick.
The status of a candidate for membership in the European Union will open for us unprecedented opportunities in our history for the restoration and modernization of Ukraine.
We are negotiating with countries at the bilateral level and with international financial institutions to support our country's reconstruction program. Of course, we will involve global business as much as possible. But we are primarily interested in creating jobs and added value in Ukraine. Therefore, localization will continue to be an important process for us.
In the evening I signed a traditional decree on awarding our heroes. 192 servicemen of the Armed Forces of Ukraine were awarded state awards, 24 of them posthumously.
Eternal memory to all who died for Ukraine!
Eternal glory to each of our defenders!
Glory to Ukraine!