USA
The heroic resistance of the Ukrainian people and authorities in the war against the Russian occupier inspires the West, which admires Ukrainian heroes. President Zelenskyy also inspires widespread confidence from U.S. public, while views of Putin hit new low. At present, a record 72% of Americans trust Zelensky (Pew Research). Despite the fact that trust in Joe Biden is significantly lower – 48%. One of the reasons is also the support of Zelensky by the majority of both Republicans and Democrats (67% and 80%).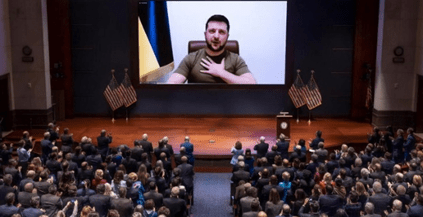 The attitude towards Ukraine in general and the support of Ukraine from the United States is also good. 74% of Americans – including solid majorities of Republicans and Democrats – said the United States and its allies in the North Atlantic Treaty Organization should impose a no-fly zone in Ukraine, the poll found (Ipsos).
Moreover, an equally bipartisan 80% of Americans said the United States should stop buying Russian oil. Also 81% of Americans think Washington should impose additional sanctions on Russia. Support for more sanctions was also bipartisan. Some 77% of respondents said the United States should seize the assets of Russian oligarchs associated with Russian President Vladimir Putin. Most respondents in the poll – 72% – said they believed the United States should provide Ukraine with weapons.
Americans are largely united in their support for strict economic sanctions on Russia in response to the invasion of Ukraine. An overwhelming majority of the public (85%) – including similar shares of Republicans (85%) and Democrats (88%) – favors maintaining strict economic sanctions (Pew Research).
Europe
Europe, which now welcomes many refugees fleeing the war, also considers Russia a serious threat and fully supports Ukraine. Europeans understand that Ukraine needs more than sympathy from the West to beat Russia. Sending planes and weapons may be risky, but the risks of inaction are even greater.
Almost 80% of residents of Germany, France, Italy and Poland are in favor of economic sanctions against Russia (Yalta European Strategy). Slightly lower among these four countries the support in French, where election campaign is in full swing now, but even there the majority is for support of Ukraine in all possible ways. All these surveyed countries also have high support for the supply of military equipment to Ukraine.
In Germany, where until recently the government's attitude towards Russia was more loyal, 45% now believe that the German government's response to Russia's attack on Ukraine is insufficient. And the number of those who consider the reaction of the German government to the war is not tough enough has increased since March by 18 percentage points (ARD-Deutschland TREND).
Europe is aware of the impending threat from Russia, and understands that Ukraine is now defending not only its territory but also Europe's borders and security.
In Poland, support for anti-Russian sanctions is at the level of 91%, and 91% of Poles are in favor of supplying arms to Ukraine, 93% have positive attitude towards Zelensky.
Among other countries, the numbers are slightly lower, but support is also high. For example, in Lithuania 83% trust Zelensky – and this is more than others: the next among the international leaders Macron (73%), Duda (68%), Biden (66%), Johnson (65%). Instead, Lukashenko and Putin have the highest level of distrust in Lithuania (90% +) (Baltijos tyrimai)
At the moment, there is also significant support for Ukraine from Great Britain with Prime Minister Johnson having recently visited Kyiv, despite the fact that a brutal war of aggression continues in Ukraine. New polling finds an increase in support for the UK Government implementing economic sanctions against Russia – now at 78% compared to 61% in late February.  Support for economic sanctions has hardened even if it leads to increased energy prices, from 49% in in late February, to 73% in this latest poll (Ipsos). Three quarters (76%) said that the President of Ukraine, Volodymyr Zelenskyy, is doing a good job of handling the situation. Thus the European Union is seen to be doing a good job only by 45% of Britons, 39% of people think the same about the UK Government.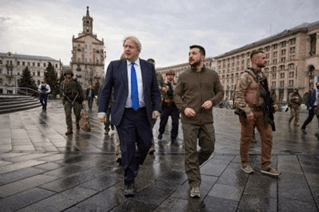 Talking about the survey throughout the whole EU, more than half of EU citizens agree with provided sufficient support to Ukraine, 43% would like to see even more help. Portugal, Spain, Ireland, France, Finland and Sweden show the most solidarity. 42% agree with the EU's sanctions against Russia, and 43% would even like to see more sanctions (Gallup international).
Only one fifth of EU citizens are strictly against admitting Ukraine to the EU. 52% say Ukraine should join the EU, only 21% against it and 27% are undecided. Poland (77%), Estonia (73%), Portugal (73%), Lithuania (73%), Ireland (71%) and Spain (66%) are most in favor of Ukraine joining the EU.
Less support for Ukraine's European integration is among those countries that, despite their close proximity to Ukraine, are dependent on Russia and provoke anti-Ukrainian and anti-European rhetoric. For example, among them Hungary – where only 36% support Ukraine's accession to the EU.
Nevertheless, most European countries have strong support for Ukraine's integration to the union. The issue of Ukraine strengthens European unity and its unification around common ideas and values, and at the same time it indicates a marginal minority of those who have little to do with these values.