00:00
Prosecutor General of Ukraine Iryna Venediktova stated that the Russian invaders had committed sexual violence not only against women and men, but also against children and the elderly.
02:00
During 35 days of Russian occupation in Hostomel, Kyiv region, more than 400 people had gone missing, said the head of the newly created Hostomel village military administration Taras Dumenko.
"We know that those people were killed, there is proof, photo and video records, but we still can't find them. When we had cellular connections, eyewitnesses were able to tell us information about those people, but now we still can't find them. The informant managed to escape," Dumenko said.
03:00
British intelligence confirmed that the bodies of Bucha residents killed by Russian military had been lying on the city streets since late March. This was announced by the British Ministry of Defense with reference to intelligence data on Twitter.
At least eight bodies were seen on satellite images released on March 21.
04:00
The New York Times published a new aerial footage, which shows a Russian military vehicle shooting at a cyclist in Bucha for several times. After the liberation of the city, a dead body was found near the bicycle in the same place.
07:00
Over the past day, on April 5, Russian occupation forces destroyed 11 houses in the Luhansk region, says Serhiy Haidai, the head of the Regional State Administration.
Russian shelling damaged two apartment buildings and nine private houses. Garages in the old part of Sievierodonetsk and tanks with nitric acid in Rubizhne caught on fire. Tentatively, there are no casualties.
08:00
In Dnipropetrovsk region, the enemy launched an air strike on oil depot and one of the plants. The oil depot with fuel was destroyed. Rescuers are still putting out the fire at the plant. The number of victims is being clarified, says the Head of the Regional State Administration Valentyn Reznichenko.
09:00
As of the morning of April 6, 2022, more than 446 Ukrainian children fell victim to an armed aggression by the Russian Federation. 167 children were killed and more than 279 received injuries of varying severity, according to the Prosecutor General's Office of Ukraine.
According to the received data, the biggest number of victims is in Kyiv region – 78 kids; in Donetsk region there are 81 affected kids, in Kharkiv region – 64, Chernihiv region – 49, Mykolaiv region – 39, Luhansk region – 31, Zaporizhzhia region – 22, Kherson region – 29, at the capital – 16, in Sumy region – 16, Zhytomyr region – 15.
11:00
Last night Russian invaders launched about 27 attacks from various types of weapons on residential quarters of Kharkiv, announces the head of the Kharkiv Regional State Administration Oleh Synegubov.
12:00
In Vuhledar, Donetsk region, Russian troops fired at a humanitarian aid distribution point from jet artillery. Two people were killed and five more were injured, states Pavlo Kyrylenko, Head of Donetsk Regional State Administration.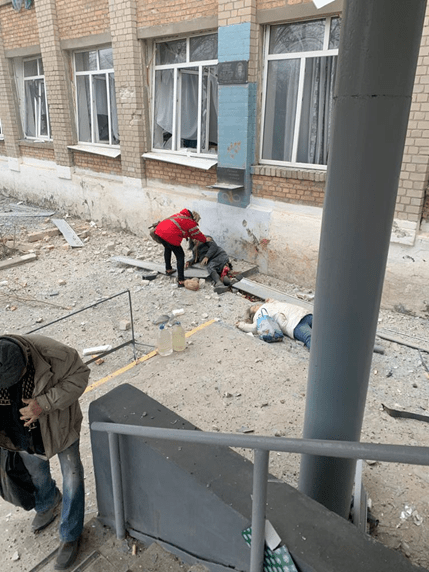 15:00
Behind a residential building in Vorzel, Donetsk region, there is a ladder to which Russian invaders nailed dogs with screws and skinned them to eat later. The bag contains dog intestines.
16:00
Deputy Prime Minister of Ukraine Iryna Vereshchuk urged people to evacuate from Donetsk, Luhansk and a part of Kharkiv regions, as it will be almost impossible to do so after the beginning of a new offensive by the invaders.
Source: https://www.minre.gov.ua/news/iryna-vereshchuk-do-zhyteliv-garyachyh-tochok-sluhayte-kerivnykiv-vca-dayut-sygnal-evakuyuytes
16:30
In Sievierodonetsk, Luhansk region, 10 apartment buildings are on fire as a result of the enemy artillery shelling. The number of victims is still being clarified, says Serhiy Haidai, Head of Luhansk Regional State Administration.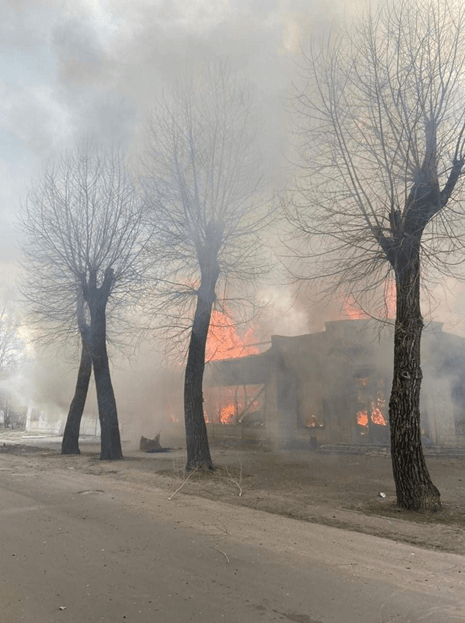 17:00
The Ministry of Defense of Ukraine published a footage from drone showing the town of Borodyanka in the Kyiv region destroyed by the Russian occupiers.
Video: https://twitter.com/DefenceU/status/1511675504428044288?ref_src=twsrc%5Etfw%7Ctwcamp%5Etweetembed%7Ctwterm%5E1511675504428044288%7Ctwgr%5E%7Ctwcon%5Es1_&ref_url=https%3A%2F%2Fhromadske.ua%2Fposts%2F42-j-den-povnomasshtabnoyi-vijni-rosiyi-proti-ukrayini-tekstovij-onlajn
18:00
In Vilnius, the water in a pond near the Russian embassy was dyed bloody red to draw attention to events in Ukraine.
Video: https://twitter.com/BertaTil/status/1511664418823811086?ref_src=twsrc%5Etfw%7Ctwcamp%5Etweetembed%7Ctwterm%5E1511664418823811086%7Ctwgr%5E%7Ctwcon%5Es1_&ref_url=https%3A%2F%2Fhromadske.ua%2Fposts%2F42-j-den-povnomasshtabnoyi-vijni-rosiyi-proti-ukrayini-tekstovij-onlajn
19:00
Russia is threatening Finland because of possible NATO membership.
Vladimir Dzhabarov, First Deputy Chair of the Federation Council Committee on Foreign Affairs of Russian Federation, stated: "Finland's accession to NATO would make it a target for Russian retaliatory measures."
Source: https://t.me/rian_ru/157443
20:00
The United States would not participate in the G20 meetings if Russia was there, stated US Treasury Secretary Janet Ellen on Wednesday during a hearing in the Finance Committee of the US House of Representatives.
She also stressed that the United States will no longer "do business as usual" with Russia in any organization.
"He (Joe Biden) asked to exclude Russia from the G20, and I made it clear to my colleagues in Indonesia that we will not participate in the meetings if there are Russians," the Secretary said.
21:00
The Ukrainian Council of Churches and Religious Organizations called on all countries of the world to recognize Russia's war crimes in Ukraine as genocide of the Ukrainian people.
"No state in the world should be silent now! Every state in the world must recognize the genocide of the Ukrainian people during the Russian invasion in 2022 and condemn the ideology of "Russky mir" as justifying the genocide of peoples and the destruction of entire nations," the Council of Churches urged.
Source: https://vrciro.org.ua/ua/statements/uccro-statement-on-genocide-of-ukrainian-people-committed-by-russian-troops?fbclid=IwAR0qK6XmhUDM30srAkATyGnAAENUnGNEK1_QUGgsh5A8v-XcaiUZ9n7YzNA
22:00
Due to the danger associated with the war, Kharkiv Regional Military Administration recommends that the residents of Barvinkovo and Lozova evacuate, says Oleh Synegubov, Head of the Regional State Administration.