00:00
There is a humanitarian catastrophe in Bucha district, said the Mayor of Bucha Anatoliy Fedoruk.
"We are unable to completely solve it at the moment: the enemy blocked bakeries, volunteers, and our efforts to restore water, gas, and heat supply.
01:00
The Verkhovna Rada Commissioner on Human Rights Liudmyla Denisova reported that at least 90 children have been killed and more than 100 injured since the start of the Russian invasion of Ukraine. It's impossible to track the exact number since many children remain under rubble, unable to receive urgent medical care.
02:00
In Trostianets, Russian invaders are forcing locals into fake humanitarian corridors and taking away their phones in an effort to protect themselves with human shields and misinformation, informed Head of the Sumy Regional State Administration Dmytro Zhyvytskyi.
06:00
According to Pentagon estimations, since the onset of the war, Russia has fired more than 900 rockets of various types at Ukrainian territory.
Source: https://www.defense.gov/News/News-Stories/Article/Article/2965939/russians-pounding-ukraine-cities-with-long-range-fires-says-official/
07:00
Russian shell hit a two-story private house in Osokorky district, Kyiv. The fire has been extinguished, there are no victims.
08:00
Missiles hit three apartment buildings and one private house in the Sviatoshynskyi and Podilskyi districts of Kyiv. Rescue workers and EMTs are working on sites. Further information is being verified, said Vitaliy Klychko, the Mayor of Kyiv.
Photo: house in Podilskyi district, Kyiv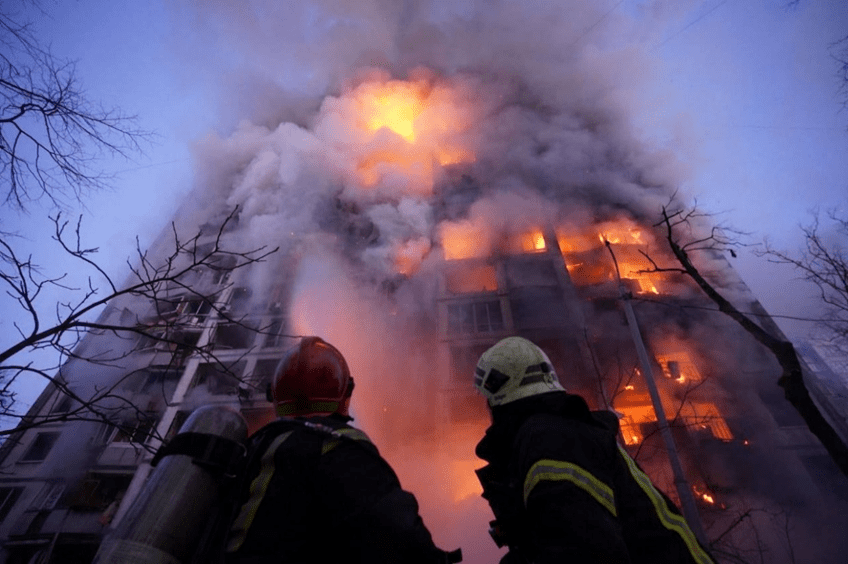 Photo: house in Sviatoshynskiy district, Kyiv
09:00
Russian military destroyed a group home for visually impaired children, a municipal hospital, and three schools in Rubizhne, Luhansk district. Four people have died. Shelling continues in Popasna and Siverskyidonetsk.
Photo: maternity ward of the multifunctional hospital in Rubizhne
12:00
Kharkiv was bombarded 65 times on March 14. Downtown districts were targeted, informed Head of the Kharkiv Regional State Administration Oleh Syniehubov. There are ongoing fights near Izium, Balakliia, Derhachiv.
13:00
As a result of the air strike on Kharkiv, three five-story residential buildings were damaged. At the entrance of the one of them, the apartments from the third to the fifth floor were destroyed.
The State Emergency Service of Ukraine rescued 21 people under the rubble and 12 people were evacuated. While people were being evacuated from the city, the shelling continued, − Suspilne informs.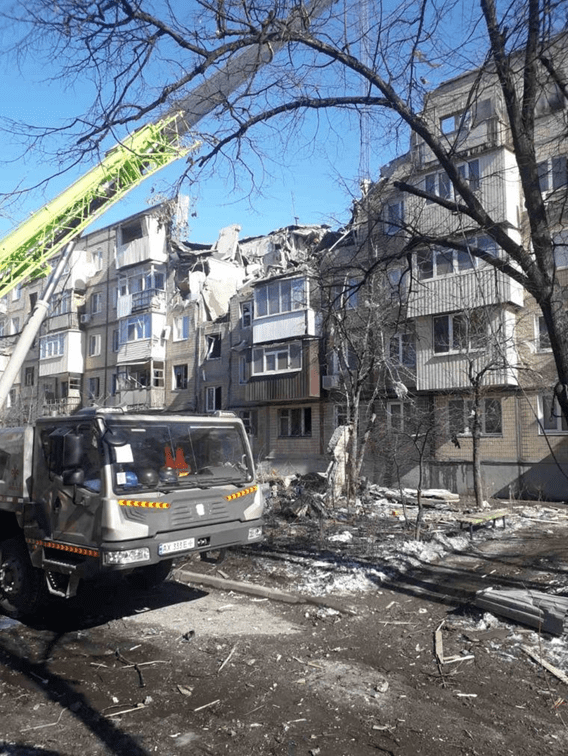 14:00
In Luhansk region, 36 localities have been partly or completely left without electricity and 30 localities − without heating. That's almost 100 hundred thousand people left without electricity and heating – informs Luhansk Regional State Administration.
As a result of the damage of the boiling room in Siverskyidonetsk, 180 apartment buildings were left without heating. In Lysychansk, 11 boiling rooms stopped working because of the electricity and water supply disconnection. 9000 consumers in Popasna and 5600 consumers in Carbonit are left without water supply.
Water supply shortages appear in Zolote, Nyznie, Nyzhnie-1, and Novotoshkivka, accounting for 2200 affected consumers.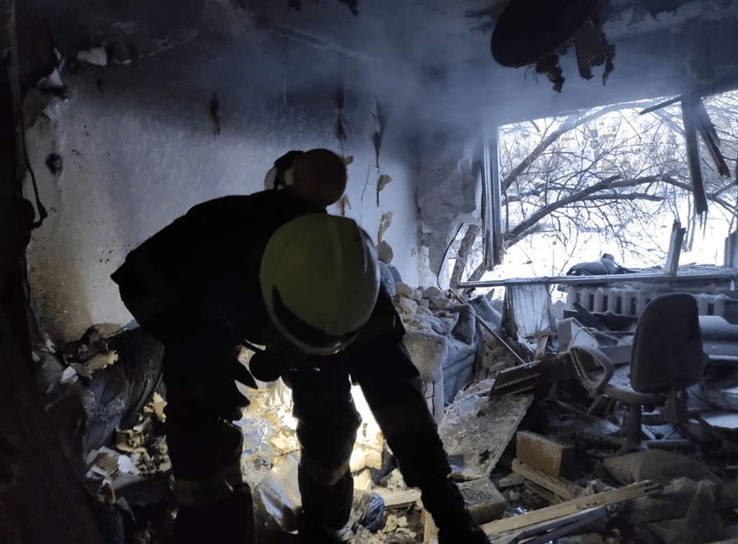 15:00
In Mykolaiv region, firefighters completed rescue operations in the destroyed school in Zelenyi Hai village. On 13 March, 2022, invaders shelled the building. 7 dead people and three survivors have been pulled out of the rubble.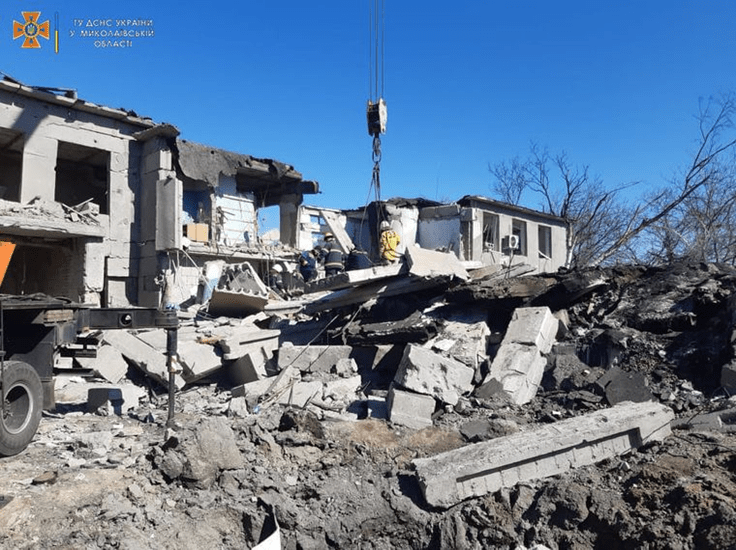 17:00
Doctors and patients are held hostage by Russian invaders in District intensive treatment hospital in Mariupol.
"Russian invaders have taken doctors and patients hostage. This news was brought by one of the hospital employees." – reports Pavlo Kyrylenko, Head of Donetsk Regional Military Administration.
"It is impossible to leave the hospital. There is heavy shelling, so we stay in the basement. Cars have not been able to move closer to the hospital for two days already. Apartment buildings are burning… Russians forced 400 people from the buildings nearby to move to the hospital. It is impossible to get out", — the hospital employee informed.
18:00
In Kyiv suburbs, Pierre Zakrzewski, the operator of American TV Fox News died, his colleague Benjamin Hall was injured. The journalists` car was shelled in Gorenka village near Bucha.
Also, Oleksandra Kuvshynova, a Ukrainian journalist, died as the result of invaders' shelling, – informs The Institute of Mass Information.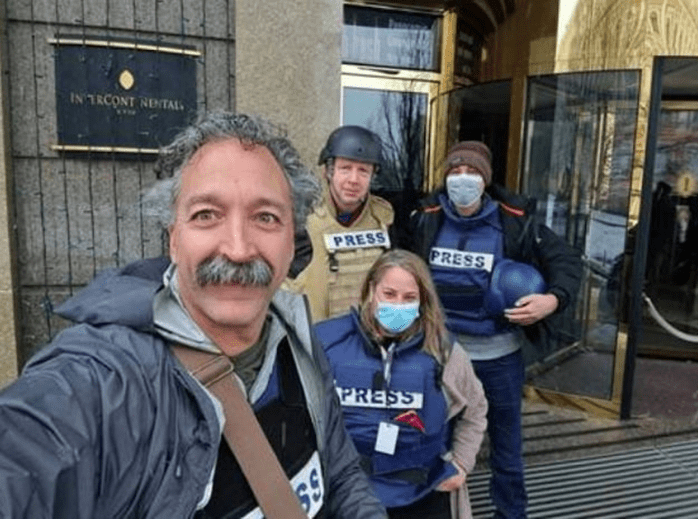 19:00
At a rally in Berdiansk city, Russian invaders kidnapped activist Vitaliy Shevchenko.
Shevchenko was abducted for organizing the rally just from Capuchino café where he had stayed after the protest meeting. Other activists have been also arrested.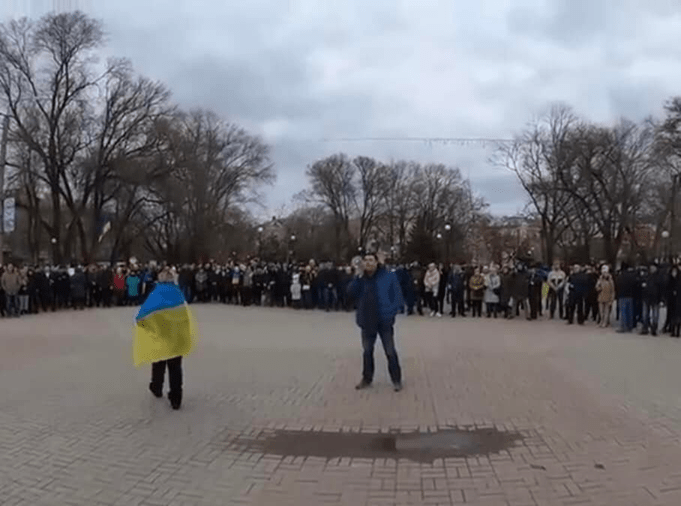 21:00
Russian invaders shelled the bus, which evacuated people from Rubizhne in the Luhansk region.
"Today the bus BF "Vostok-SOS" got under fire. The volunteers were helping us to evacuate people from Rubizhne. Two hundred inhabitants of Rubizhne stayed in the town under constant fire" – says Serhiy Haidar, Mayor of Luhansk Regional Military Administration.