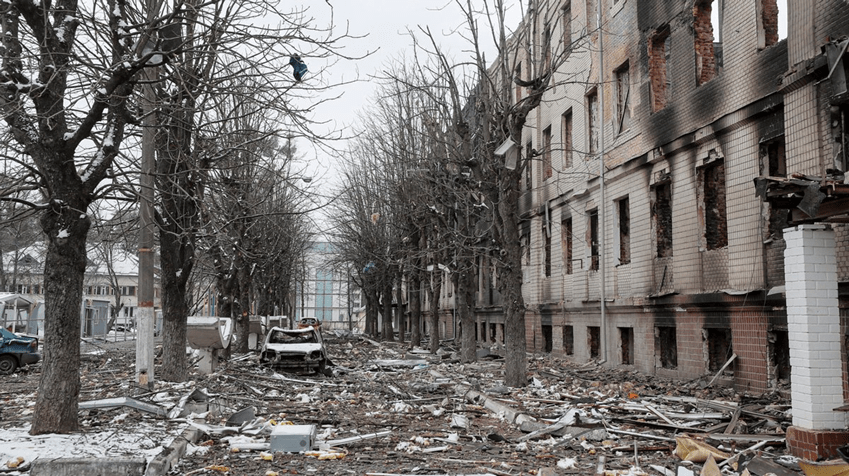 The northwestern part of the Kyiv region (between the Chornobyl Nuclear Power Plant in the north and the settlements of Dymer and Katiuzhanka near Kyiv) now remains under control of the Russian invasion forces. Several dozen settlements are in actual occupation, even without the physical presence of Russian troops there. Within the specified territory, a humanitarian catastrophe is rapidly developing: civilians have been cut off all food supplies, in some settlements, electricity and gas supplies were severed, and medical assistance is not being provided as such. In the village of Katiuzhanka, the invaders attempted to use the locals as a human shield in their attempts to advance towards Kyiv. The disctrict center, Ivankiv, was half destroyed by Russian rockets launched by Grad MLR systems. Ukraine's access to the Chornobyl NPP has been blocked completely. There is no contact with the NPP staff.
Russian occupation creates the following risks:
– A total of 100,000 civilians are at risk of starvation and deprivation;
– There's a growing risk of famine in all blocked territories. The rural population is partially living off the available food stocks, but not all of it;
– Medical services are becoming unavailable;
– A humanitarian catastrophe is unfolding due to a drop in living standards and basic life comfort indicators (severed power, water, and gas supplies, as well as destruction of road transport infrastructure);
– There's a risk of a man-made disaster of various scales at the Chornobyl Nuclear Power Plant now that the occupiers have full control of the NPP. The Ukrainian side states that some facilities at the site have been de-energized, which poses a risk of a radionuclide release. Russia puts the whole world on the brink of an unprecedented disaster with irreversible consequences.