The Henry Jackson Society is delighted to invite to a discussion of a new report "Ending Russia's War Against Ukraine" by its author Dr Taras Kuzio (Henry Jackson Society), Ms Yulia Osmolovskaya (Transatlantic Dialogue Center) and Dr Hanna Shelest (Foreign Policy Council "Ukrainian Prism").
Over the last eight years, negotiations through the Trilateral Contact Group (OSCE, Ukraine, Russia) and Normandy Format (Germany, France, Ukraine, Russia) to end the war in the Donbas region of eastern Ukraine have failed to achieve a peace agreement. The Russian-Ukrainian war has created two million internally displaced persons and refugees, killed over 15,000 combatants and civilians, and brought widespread destruction to the infrastructure and economy of the Donbas. There is little likelihood of achieving a peace settlement if the Trilateral Contact Group and Normandy Format remain in their current format.
A new report by the Henry Jackson Society argues that the Kremlin has moved to a military threat posture after failing to achieve its goals of a weak, federal state ("Bosnianisation"), ending its goals of seeking NATO and EU membership ("Finlandisation") and Ukraine returned to Russia's sphere of influence. This new paper argues the West should take the initiative and reform and revive the diplomatic process by moving the Trilateral Contact Group from Minsk to Switzerland and expanding the Normandy Format by adding the US and UK as additional members.
ZOOM event registration:
To register your interest, please click the RSVP below
https://us06web.zoom.us/…/reg…/WN_3FWqQdSJTqmd0HYNCSZgCA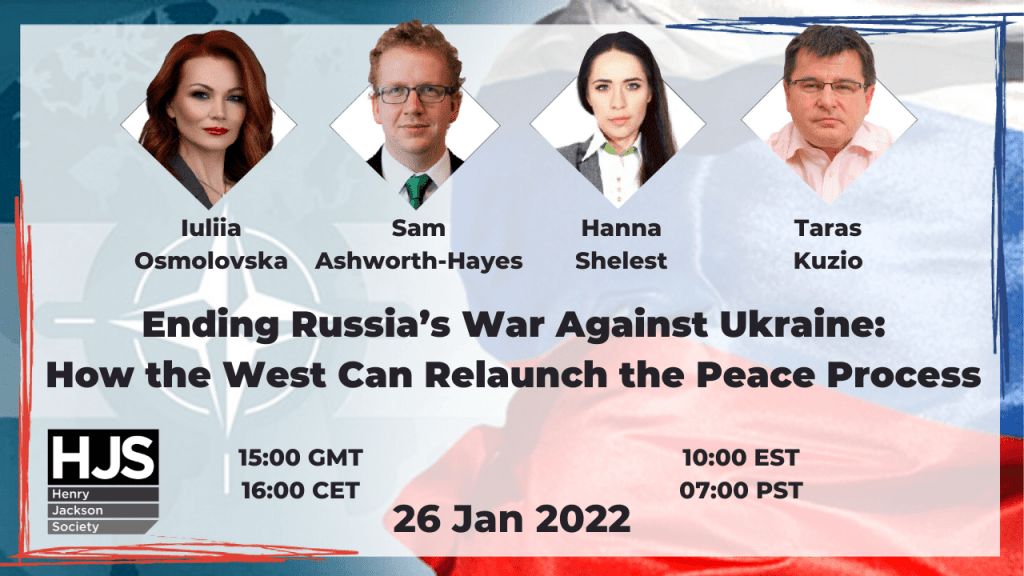 Please note that you will need to receive a confirmation email from Zoom to be able to attend the event.